In New Role, Adolfo Carrión Begins National Urban Conversation
Listen:
Last July, Adolfo Carrión, Jr. paid a visit to an urban garden in Philadelphia. In casual khaki slacks and rolled-up shirt sleeves he was digging up potatoes, throwing the long stems into a wooden wheelbarrow, to be turned into compost. The potatoes, he offered, would be good for "home fries."
Carrión is now the director of the brand-new White House Office of Urban Affairs, part of a campaign promise President Barack Obama made to re-focus attention on urban America.
A small crowd was gathered around Carrión in the garden--the Mayor of Philadelphia, a Deputy Secretary from the federal Department of Housing and Urban Development, a host of neighborhood activists and a few teenagers. Two of the teens, Amber and Shardae, were standing a bit off to the side, knee-high in collard greens.
The high school students were part of the "Teens for Good" program. The program hires local teens, gives them summer jobs, and sells the produce the raise at a neighborhood farmers market. Amber and Shardae were joking about sneaking a few of the ping pong ball-sized raspberries. But for Amber this was serious.
"I'm considering becoming a chef, and I never really thought about that before, but it seems fun. I'd have my own garden back there, cooking my own food."
That's the point of gardens like this--to train young people for jobs, connect them to the food chain, stabilize communities and create a permanent shift in the way people view urban land. But as for a White House role--did the teens think it could help? "Well," Shardae said, before trailing off. "Hopefully," Amber added. "I'm kind of lost a little bit. But it's okay."
"Now that you've seen all of this, what are you going to do to make it federal policy?" I asked Carrión that day in the garden. "This is part of the national conversation," Carrión said. "There are so many good things happening out here. They need to be amplified. And then we need to look at what are the obstacles that are keeping us from scaling this up."
For now, Carrión is on a listening tour –he's calling it a "National Urban Conversation"-- gathering stories of urban best practices, like so many acorns in a squirrel's nest.
Carrión used to be a teacher and an urban planner. Tall, olive-skinned, with an oval face and close-cropped hair, he has the natural radiance that characterizes most successful politicians. In 1997, he ran for city council in the Bronx, and in 2001, entered the sharp-elbowed race for Bronx Borough President. As BBP, he became known for two things: being a prominent outer borough supporter of New York City Mayor Michael Bloomberg's ultimately unsuccessful congestion charging plan and his strong-armed championing of the new Yankee stadium.
For supporters, getting the new stadium built is a great victory. It keeps the Bombers in the Bronx, guarantees a certain amount of local employment, and brings a Metro North commuter rail station to East 153rd Street in the South Bronx. For detractors, it is a travesty of dubious economic help to the neighborhood, destroying a local park and creating sub-living wage jobs. The Yankees are the richest sports franchise in baseball. Their stadium lies in the poorest congressional district in the nation.
Joan Byron is an architect and the Director of the Sustainability and Environmental Justice Initiative at the Pratt Center for Community Development, a group that seeks to improve the quality of life for the poor through better urban planning. She likes Carrión, noting that "oftentimes when you talk to elected officials and you're talking about planning you see their eyes glaze over as a staffer is taking notes." That never happened with Carrión, she says. "He's a planner and he gets it." But she says he didn't get it with Yankee Stadium.
"I have pictures of Mulally Park, of that track that was used by every kind of person in the neighborhood: ladies with pink track suits and little visors power-walking, high school athletes training, kids riding their bikes alongside their parents. And I can barely not cry when I look at those pictures and see what was destroyed for the convenience of the Yankees."
Carrión and others say that ultimately the Bronx will have more and better parks. And more jobs.
Carrión prides himself on his leadership of steering the new stadium through the approval process. But opponents see it differently. They say they were literally shut out in the cold when meetings about the stadium were packed with supporters.
But there was a logic to this. Carrión was making his way up through the Harry Potter-esque world of Bronx politics, becoming a national voice among Latino elected officials and getting on everyone's short list to run for city-wide office. When he got the call to join Obama's team--seven years and two months to the day after he was elected Borough President, as he likes to point out--Carrión was preparing a bid for City Comptroller, widely seen as a stepping-stone to becoming the city's first Hispanic mayor. And then he went to Washington.
Listen here to learn more about Adolfo Carrión's political aspirations when he returns to New York City.
For months, Carrión seemed swallowed up by the grandiose Old Executive Office Building, next to the White House in Washington, DC. Requests for interviews were put off, urbanists began to whisper among themselves that he wasn't doing anything, he wasn't up to the job.
In July, he re-surfaced in the fresh fish aisle of a supermarket in the Parkside neighborhood of Philadelphia. He'd assembled an impressive coterie--Secretary of Agriculture Tom Vilsack, Secretary of Commerce Gary Locke, and the Deputy Secretary of the federal Department of Housing and Urban Development, Ronald Sims. They were there to tour a neighborhood ShopRite. What may seem mundane to many Americans--a supermarket--had huge significance here. For thirty years, there had been no affordable fresh food in this neighborhood.
After viewing a display of this ShopRite's wares, which included produce grown in an urban farm by the local high school, Carrión ushered everyone into a back room for his "urban conversation." There on the dais were two cabinet secretaries and one deputy secretary, the supermarket's owner, Jerry Brown, Philadelphia's Mayor, Michael Nutter, the head of a local redevelopment group, Jeremy Nowak, and Yael Lehmann, the Executive Director of the Food Trust in Philadelphia.
Each of them told a piece of the story of this market. Lehmann related the tale of a ten-year old neighborhood girl, Jasmine. "'You know Yael, there's a lot of unhealthy places to eat around here.' Jasmine can walk to school and she can find a strawberry soda but she's not going to be able to find a strawberry. She's s going to easily be able to pick up a bag of chips but she's not going to be able to find a potato. We know when you live in a neighborhood that only has fast food, that only has convenience stores, that's going to influence what you eat and that's going to impact your health.
"The food trust put together some maps," Lehmann continued, perched on a folding chair in front of giant pictures of fresh produce. "And we showed on the maps all the places in Philadelphia that lacked supermarkets. And then we also showed all the places in Philadelphia that had high rates of diet-related disease and death. And we saw that the two fit perfectly on top of each other."
Getting fresh produce into urban centers has become something of a minor movement, going all the way up to Michelle Obama, who is growing onions and squash and other vegetables on the White House lawn.
But Carrión's point was a subtler one. It's not just that these policies are good for neighborhoods, not just that fresh food is healthier and makes for a healthier population It's that these programs are in the national interest.
"This president recognizes that more than 80 percent of people and the jobs are in cities and metropolitan areas, that more than 90 percent of our gross domestic product is generated from our metropolitan areas," Carrión told the audience in Philadelphia, a point he makes in front of pretty much every audience he speaks before, large or small.
This ShopRite, for example, employs hundreds of people, paying them union wages and benefits. It's in a busy shopping center with a Lowe's and a pharmacy. Where once there wasn't much, now there's a community anchor. And yet it took fourteen years to get it done. In the 1990's President Bill Clinton designated this area an "empowerment zone." Michael Nutter--now Philadelphia's Mayor--was the local councilman then.
"We could not convince anyone to build anything at this site," Nutter said from the dais. "This was an industrial park and no one wanted to make any investment in this particular part of the community because retailers did not believe people in this neighborhood had disposable income to spend and they could actually make money. This is an absolute fact."
But one retailer did. "People looked at me as if something had gone wrong with my childhood," Jerry Brown said. Brown, who comes from four generations of grocers, says he wanted to do it. "Most of our family has operated stores in inner cities," he said "but there are so many obstacles I was nervous to do it. I often felt the government was not on our side.
Carrión's point, exactly. "The president has charged us to go out and talk to people in their communities, because he recognizes the best solutions in spite of the fact our national government was not supporting urban places, the best solutions were bubbling up."
The notion that the federal government operates in "silos" has been popularized by Bruce Katz, a Brookings Institution Vice President and the founding director of the Metropolitan Policy Program there. Katz has been promoting the idea that cities and their attached suburbs are--and will be--America's economic engine. But he faults the federal government for looking at programs separately--for not seeing, for example, how Environmental Protection Agency policies that require brownfield clean-up, HUD programs that funnel funds to specific areas and USDA food stamp policies may all affect the same place. Katz says Obama has inherited a 'legacy government' that works against the goal of effective urban solutions. 'The feds have been such a hindrance to smart metropolitan development that many find it difficult to imagine a different federal role,' Katz told me.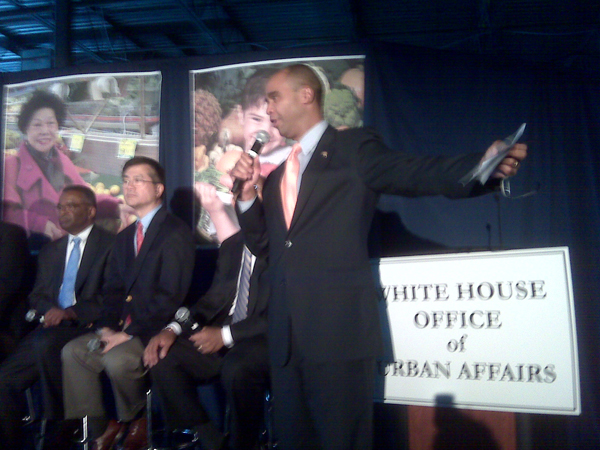 Katz was on the Obama transition team, he now has Carrión's ear. And at events like the one in Philadelphia, the ideas are being propagated out through different members of the administration. After hearing the grocer, Jerry Brown, tell his story, Commerce Secretary Gary Locke leaned forward a bit. "Too many of our programs," he said, are about developing "big industrial parks, but we don't I think put enough money into the urban core for retail and commercial establishments like this that take care and feed the real needs of residents." Locke then went back to his talking points--his department had supported 67 Pennsylvania projects with "billions of dollars" in grants. Then he went off-script again--"but kind of more out in the suburbs than in the heart of the city." Locke continued to muse aloud "I want to go back and advertise to communities across the country that our economic development grants can be used for projects like this."
"That's music to my ears," Carrión said. "This is exactly the purpose of this conversation."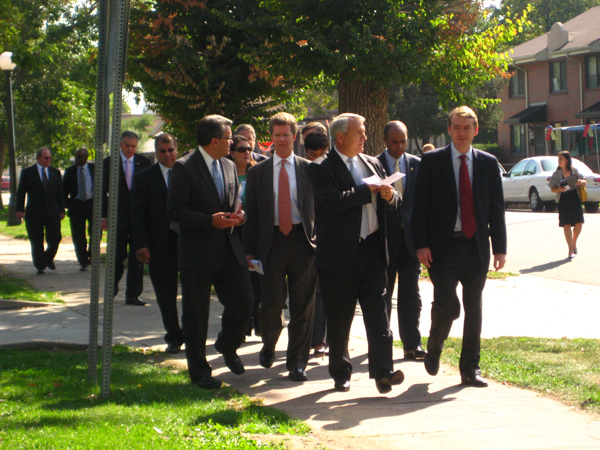 Carrión has been having these conversations in cities across the country--Kansas City, Missouri, Flagstaff, Arizona, Seattle, Chicago, and on a crystal-clear day last fall, Denver. Though Denver is mostly associated with the Rocky Mountains, it actually sits on the prairie. For decades it could grow out and out, and it did. The area is a giant sprawl of single-family homes, ring roads, and malls. This kind of development burns up resources. It's less efficient to heat ranch houses than apartment buildings, and it requires people to drive more. The smart growth movement has been trying to reverse this trend, but as Housing and Urban Development Secretary Shaun Donovan notes, the federal government has been undermining that effort through funding formulas that favor roads, loan and tax policies that encourage single-family home buying, and a tangle of federal regulations.
"For example, we require five-year plans for block grants, Ray (LaHood, the Transportation Secretary) requires four years, and never the twain shall meet. Right now there is no interaction except in really forward-thinking places." Donovan says Denver is one of those places.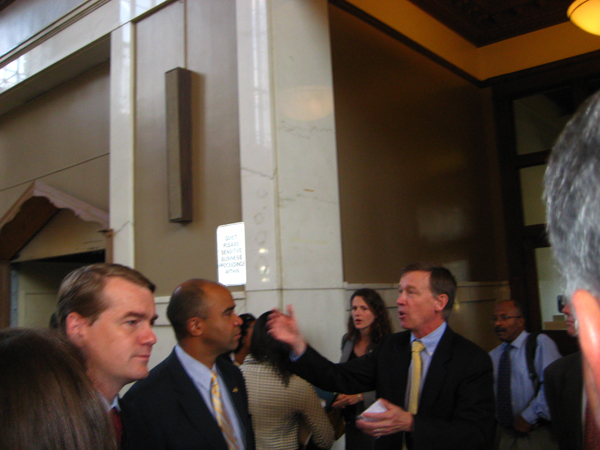 Like Mayor Nutter in Philadelphia, Mayor John Hickenlooper--tall, red-headed, a former brewer--is a bit of a bull-headed leader. He ran for Mayor railing against what he calls "the fundamental nonsense of government." Hickenlooper won the mayorality in 2003 and just a year later he was able to push through a transit tax for Denver and the surrounding counties in a state that was still red, voting to re-elect George W. Bush that year.
The campaign manager of the transit tax effort was Maria Garcia Berry, who ran two years of focus groups. To her surprise "your natural demographic of people who are anti-tax or anti-transit broke differently." Older suburban women, she told me over lunch in a downtown Denver Irish restaurant, are--in general--very anti-tax. "What was really surprising for us is those women were strong supporters (of the transit tax) because it meant independence."
And so Hickenlooper got his point four percent sales tax and enough funding for 122 lines of light rail and 18 miles of bus rapid transit, the largest current transit expansion in the United States. The program is in some financial trouble now, because sales of large appliances and other big-ticket item are down. But construction is proceeding, and a second tax may be in the works.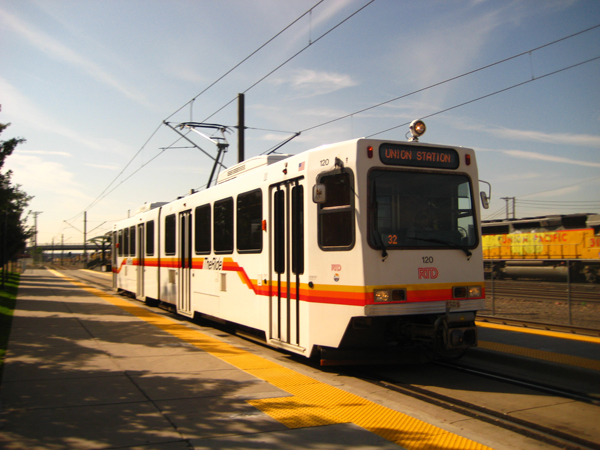 Still, on a tour of Denver's Union Station, located in the South Lincoln Park neighborhood where public housing is being erected at a rail stop, as well as in a National Urban Conversations stop at the University of Colorado, Hickenlooper kept pointing out that transit alone won't do it.
"If you're going to use your transit as part of your land use planning, so that you beginning to think through instead of putting it out to the suburbs and having a big parking lot around each station, make sure that you really strategically think through and create transit-oriented development around each station so you get affordable housing and have access to workforce training."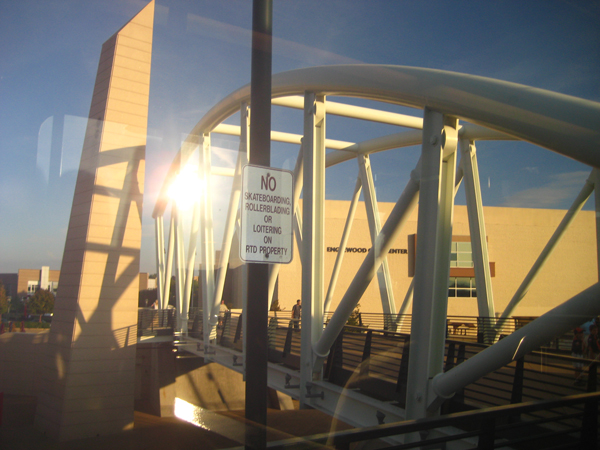 In the Denver area, this is already happening. If you take the Southwest line out to Littleton, for example, you can see housing and commercial construction at many of the stops. Around Union Station--which will be big hub once the lines are completed by 2017--housing is so attractive the local Chamber of Commerce vice president says only "trust fund" kids can afford to live there. There's a small business district in Littleton near the train stop, and merchants there attest to the rail line's effect. Tom Witham, of Lido Wines, says his business hasn't been great. But the increased foot traffic is noticeable, and has kept the business afloat. "Very much so," he says.
This is what Carrión is trying to get at. "The old American city of the last century is not the city of today," he said at the University of Colorado. "We have to align our investments to share that reality. What we ought to be doing is an alignment of investments that are following smart, regional plans."
Getting the Cabinet to focus on smart growth isn't such a heavy lift for Carrión. Last June, HUD Secretary Shaun Donovan, EPA Administrator Lisa Jackson and--to the surprise of some White House insiders--Ray LaHood, the former Republican Congressman from rural Illinois turned Transportation Secretary, established a "Partnership for Sustainable Communities" which they have backed with gusto. In Denver, for example, Donovan handed out $20 million of economic stimulus money to build "green' public housing buildings close a light-rail stop.
The administration is also full of cabinet secretaries who used to work in city governments--Donovan, for example, is a former New York City housing director, and Education Secretary Arne Duncan is the former CEO of Chicago's public schools. The President himself has lived in Chicago, New York, Boston and Los Angeles before coming to Washington.
Given this, there's been some quiet grumbling about whether a White House Office of Urban Affairs is even needed. But after the Denver town meeting at the University of Colorado, Donovan didn't have any doubts. "You need to have someone to do that coordination," Donovan told me. "That's exactly the role that Adolfo has been playing."
But he's been playing it quietly. Press releases from the White House Office of Urban Affairs are almost non-existent. Carrión blogs about once every other month. He has a staff of five.
Publicly, mayors are nothing short of ecstatic about the White House Office of Urban Affairs. "This administration knows where cities are," Philadelphia's Mayor Nutter told me at the ShopRite. "No one can remember a time when all the branches of government were working together like this," Denver's Hickenlooper said, adding his administration is "constantly picking up the phone" and calling the White House.
But behind the scenes, some of the goodwill is beginning to fray. In an interview on The Takeaway on November 30, Nutter's frustration about running a city government in tough economic times began to seep through. "Cities and metro areas are too big to fail," he told interviewer John Hockenberry, evoking the language used to describe the bank and auto industry bailouts that had already come from Washington.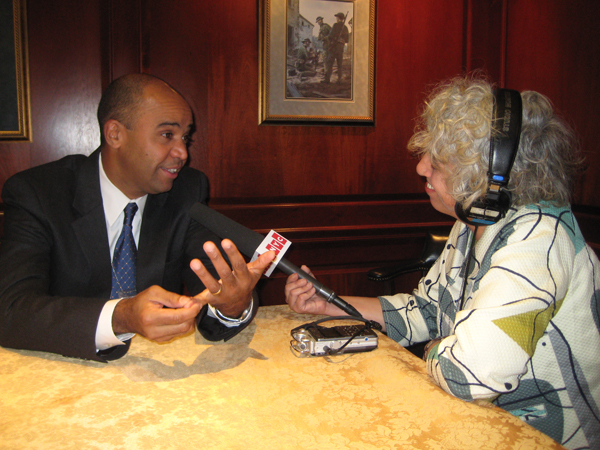 And so in November in the West Wing of the White House I was still asking Adolfo Carrión the question I asked him in July in Philadelphia. How exactly was he going to take his best practices tour and turn it into federal policy?
"All of that," he told me, "is coming back to an interagency process with 16 agencies that are working on the next budget cycle which is the 2011 budget. In that 2011 budget we are going to concentrate on several major areas affecting urban America. One is the regional economies and how they operate and how best to position them and how we should operate as a national government to support research and development and development of jobs and positioning of industries in certain regions of the country."
"The other is the sustainable community development strategy, which is aligning transportation investments with land use and ensuring that we reduce carbon footprint, get people out walking in their communities."
"And the third is that at the end of the day, every American lives in a neighborhood, and we have to make sure we have strong, vital, robust neighborhoods that help ensure good housing, that we are able to educate our kids, that you can have a good, small business in a robust area. This is real stuff that touches real people."
So, what, specifically, is he doing?
"Essentially the creation of this office is to convene the agencies which we've done, we have an interagency working group that meets twice a month formally as a large group with all of the key policy people. Then there are working groups on regional economies, there is a working group on sustainable community development. There is a working group on the neighborhood level investments that we make."
There is one specific accomplishment to which Carrión can point--getting the Office of Management and Borough to ask federal agencies to consider "place" when drafting their 2011 budgets. A policy that affects place, for example, might favor clusters of businesses. One that would not would make credit available generally to any business. The review is ongoing, and though it may seem small-bore, it represents a 180-degree shift in federal policy, which for almost three decades has prohibited federal agencies from doing just that.
And it's part of how Carrión is measuring his own success and that of his office. "The investments we make as a federal government are driven by smart regional plans," he says. "We have changed the culture of this federal spending and the conversation, the debate in Washington, and the decisions that are made."
When you hear Carrión speak, it's hard to distinguish his talk of sustainability and smart planning with that of Majora Carter, a South Bronx activist who won a MacArthur Fellowship for her environmental justice activism. But for Carter, the projects Carrión supported in the Bronx are unforgiveable.
"No urban planner worth his salt, they couldn't look at the Gateway Mall"--a large big-box mall that replaced a local food distribution center--"and Yankee Stadium and call that good planning. Nobody could," Carter told me from the offices of her consulting organization, the Majora Carter group, in the Hunts Point section of the Bronx.
"God bless Majora," Carrión told me, when I related our conversation. "She has been such a terrific advocate of historically marginalized communities not only in the Bronx but around the country and has become a real champion for smart planning. We have some basic disagreements on how to get certain things done."
Carrión sounds like the smart politician who works just upstairs from where were are speaking at the White House. Does he, I ask, have any plans to come back to New York to get involved in political life?"
"You know, once you make a commitment to public service I think its very hard to walk away from it, it becomes part of your DNA. I love New York and I love cities. I am so privileged to be able have this opportunity to look at the rest of the country with the president."
New York's Democrats have been somewhat less than visionary of late--and will have been out of City Hall for a generation when the mayor's seat is next open. At the very least, Carrión will have educated himself on all the best urban planning practices during his years in Washington.
"When we are done, we all have a place called home we go back to and New York is my home and I look forward to the time I can return."
"That," I tell him "is so far from "I have no plans to make plans."
"You know--yes," he answers. "Right. Right."
Listen to a conversation about the new White House Office of Urban Affairs with WNYC's Richard Hake and Andrea Bernstein.

Listen to Andrea Bernstein discuss this story on The Brian Lehrer Show.