Life at the Speed of Film - Tsai Ming-Liang at Asia Society
Listen to a Weekend Edition Saturday report on Tsai Ming-Liang:
Face, the latest film by Tsai Ming-Liang, one of cinema's most revered auteurs, brings together on screen François Truffaut's companion Fanny Ardant and his longtime alter ego Jean-Pierre Léaud. It's the first film in a series commissioned by the Louvre Museum, and is based on the ancient tale of Salome.
Trailer of Face
For his first feature film Rebels of the Neon God, Tsai cast Lee Kang-Sheng, then an unknown actor, for the leading role.  Over the next two decades, Lee has starred in every Tsai film, and it's become impossible to think of one without the other.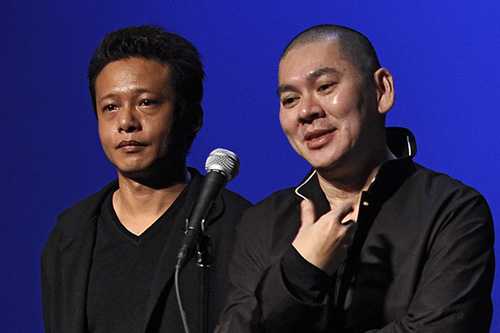 Trailer of Rebels of the Neon God
If watching a film can feel like reading a book with someone turning the pages for you, then Tsai wants you to turn them on your own. In his films, characters speak little, spaces look anonymous, and time moves very slowly. It's as if Tsai wants to constantly remind his audience of the film experience, and the new reality that everyday life can create in film.
The opening scenes of What Time Is It There?
In The Hole, a Y2K musical, a mysterious disease hits Taipei at the turn of the millennium, causing people to crawl and behave like cockroaches. Two strangers who ignored evacuation orders find themselves sinking deeper into isolation. And their repressed desires burst into elaborate musical numbers.
A scene from The Hole
A retrospective of Tsai's films co-presented by the Taipei Economic and Cultural Office in New York continues through November 21 at Asia Society.