Puerto Ricans in New York Struggling...Still

Puerto Ricans are some of the most prominent figures in New York politics and culture, so some people are surprised when they hear that, overall, Puerto Ricans are among the poorest and least educated New Yorkers. Almost a third in New York are living in poverty. Here are some of the figures.
In New York City, 31.2 percent of Puerto Ricans live in poverty, compared with 27.8 percent of Latinos more broadly and 18.9 percent of the New York City population overall. Nationally, 22 percent of Puerto Ricans are in poverty, versus 19 percent of Latinos overall (from the American Community Survey via the Pew Hispanic Center).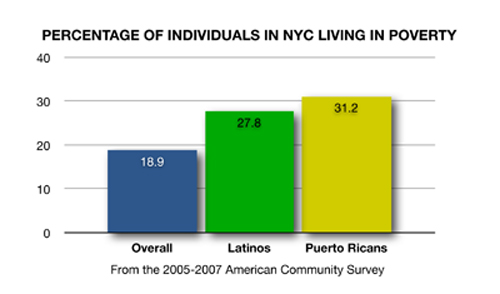 Of course, when you look closely at the numbers you can see that other Latino groups are struggling as well –- more Dominican and Mexican families in New York, for example, are living below the poverty line than Puerto Rican families.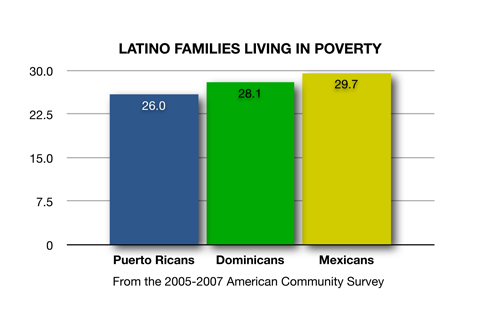 But note that the margin of error for these stats from the 2005-2007 American Community Survey is big enough to put these groups basically on a par with each other. So what's most surprising is that these groups are so close, given the supposed advantages Puerto Ricans have: They're all citizens (because Puerto Rico is a Commonwealth of the United States), they've been in New York longer (most Dominicans and Mexicans immigrated to New York more recently), and a higher percentage speak English.
As for education: only 31% of Puerto Ricans have completed beyond a high school education as compared to 77% of Whites, 71% of Blacks (including African immigrants) and 42% of all Latinos. (From the American Community Survey via the Center for Puerto Rican Studies at Hunter College)
Among Puerto Ricans between the ages of 24 and 32, only 16 percent have completed college, even though almost a quarter have at least one college-educated parent. And almost one in five Puerto Ricans that age with at least one college-educated parent dropped out of high school. (From the book 'Inheriting the City: The Children of Immigrants Come of Age').
I decided to do this story after going to see Phillip Kasinitz of the CUNY Graduate Center to talk about his book 'Inheriting the City: The Children of Immigrants Come of Age.' As part of his comprehensive study, Kasinitz compared the children of Latino immigrants to the children of native born Puerto Ricans and he says he too was surprised to find that Puerto Ricans were experiencing less success educationally and professionally than many Latino immigrant groups.
Of course, when I went to speak with some of the leading thinkers on Puerto Rican issues, they said, 'Duh!' But they said people don't want to talk about this issue. Angelo Falcon of the National Institute for Latino Policy said the issues of Puerto Ricans have become 'invisible,' especially as immigration issues dominate the political and academic dialogue around Latinos.
That's how this story was born. Please contribute to this conversation by posting your comments below – there's much to debate.