Happy Birthday Aaron Copland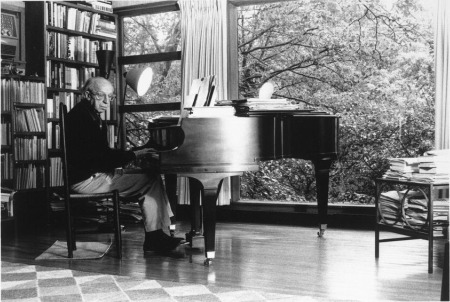 The Brooklyn-born, American composer Aaron Copland was born Nov. 14, 1900. He is best known for incorporating indigenous American music, jazz and folk, into his compositions. A child of Jewish immigrants from Lithuania, he eventually went on to study music in France. When he returned to the U.S. he set out to make classical music as accessible as popular music.
He composed music for films, including Of Mice and Men (1939), Our Town (1940), and The Heiress (1949). He also composed for ballet, including Martha Graham's Appalachian Spring (1944), which garnered him a Pulitzer Prize. He went on to travel the world conducting.
He died on December 2, 1990, in North Tarrytown, New York. His ashes were scattered at Tanglewood.
Here, Copland speaks during an intermission at the WNYC American Music Festival on Feb. 22, 1941:

For an extensive collection of over 400,000 items documenting Copland's life and achievements, visit the American Memory collection at the Library of Congress.
Special thanks to WNYC's Director of Archives Andy Lanset