How to Get to Sesame Street? Visit 64th and Broadway
Reporting by Gayathri Vaidyanathan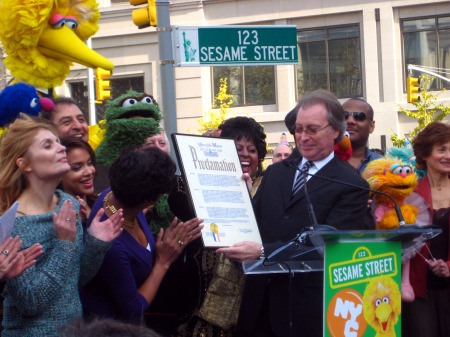 Big Bird, Elmo, Oscar, and the Sesame Street gang got together today to celebrate on the eve of their 40th anniversary. Big Bird towered over puppet lovers at a busy intersection near Columbus Circle, providing a yellow splash of color to the skyline.
Mayor Bloomberg has declared tomorrow 'Sesame Street Day' and temporarily named the corner of 64th Street and Broadway... 'Sesame Street.'
Oscar the grouch was unusually happy for the occasion. 'I like my trash can and the rent is cheap. Well, I hate to admit it, but yes, I'm happy,' he said.
Here, Oscar the Grouch speaks about meeting Michelle Obama and her suggestion that he take a bath.
Yes, I have to admit it, she was very pleasant. She said take a bath. I've never done that. I will someday, if I have to. That's why I don't even like it when it rains too hard. I might get clean.
Still, Oscar says he was happy to hang out with the first lady.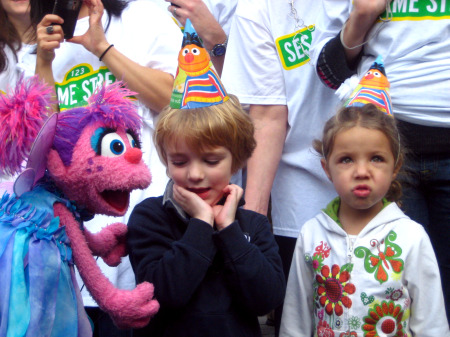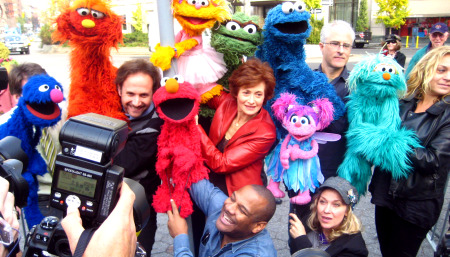 Emilio Delgado, who played the first non-creature character on the show, Luis, speaks about facing harsh realities on the show. When Mr. Hooper died, he had to have an explanation.