La Guardia--New York's First Three-Term Mayor
Monday, November 02, 2009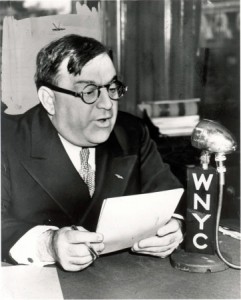 On the eve of election day we combed through the WNYC archives to find what New York's first three-term mayor, Fiorello Henry La Guardia, who served from 1934-1945, said at his third election. La Guardia was the first Italian-American to climb that high on the political ladder in America. He was also a Republican and is credited with helping New York garner large amounts of federal funding for public works during the New Deal.


After being elected for a third term on November 5, 1941 La Guardia gave this speech:

Special thanks to WNYC's Director of Archives Andy Lanset
More in:
Stephen Nessen reports for the WNYC Newsroom and can often be heard live on Morning Edition.