Shot Seekers Flock to Nurse's Office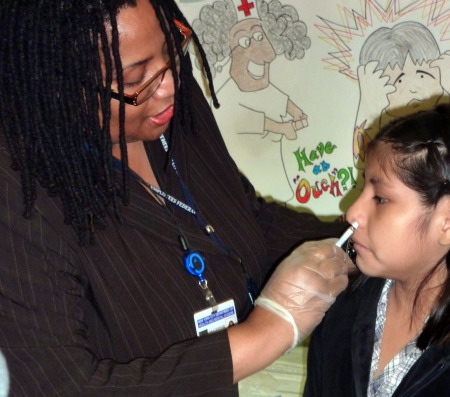 At PS 157 in Clinton Hill, Brooklyn, there was almost a stampede getting into the nurse's office, where H1N1 vaccine was being administered. It wasn't from students, though, but from reporters, photographers and camera men. This was the one school opening its doors to the media, and everyone wanted a shot (no pun intended). There might have been as many people recording the moment as participating in it.

In all, 115 kids at the school turned in consent forms from their parents -- about one-quarter of the school's almost 400 students. That made PS 157 right in the middle of the range: between 5 and 50 percent of the student bodies at different elementary schools have signed up for vaccine.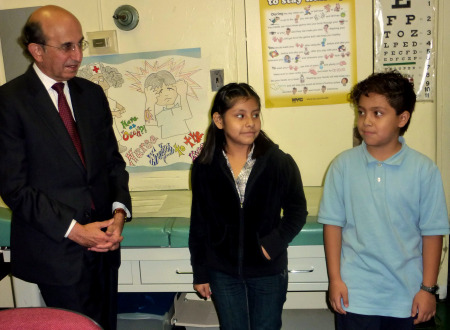 As cameras clicked, Chancellor Joel Klein (left), Health Commissioner Dr. Thomas Farley, and Deputy Mayor Linda Gibbs made awkward conversation with fourth graders Jesus Lopez and fifth grader Aylin Tlapanco, neither of whom was as eager to talk about the Yankees as the adults had hoped. The school nurse, indifferent to the throng, prepared what looked like a syringe but turned out to be a nasal mist injector. Within seconds, each kid had the vaccine, with nary a wince or grimace.
Aylin Tlapanco had this to say afterward:
It felt kinda awkward, because there was like this gas inside your nose, and then when you're breathing it in, it felt weird.
Jesus Lopez described it this way:
It felt very weird. You had to breathe the liquid in. It was a very different experience for me.