Mind the Gap: Can Bloomberg Deliver on Promise?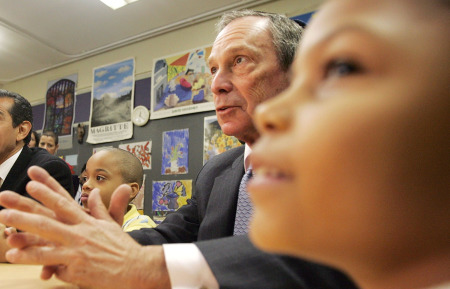 Education is sure to come up during the final debate tonight between Mayor Bloomberg and Comptroller Bill Thompson. In his speech outlining his goals for a possible third term, (Bloomberg predicted that by 2013, "families from around the nation and region will be moving into the city for the schools.") He (specifically) vowed to close the so-called "achievement gap" in math. But let's take a closer look at this gap and what it means.
On the one hand, the phrase "achievement gap" refers to the gap between test scores in NYC and those in the rest of the state. Mayor Bloomberg often boasts that New York City is closing the gap, and catching up with the suburbs.
In 2009, roughly 82 percent of the city's students met or exceeded state standards for grades 3-8. That was about 4.5 points behind the statewide average of 86.4 percent. In 2006, 57 percent of city students were meeting or exceeding the standards compared to 65.8 percent statewide. So the gap has definitely narrowed.
"Achievement gap" has also been used to describe the disparity between whites and Asians and blacks and Hispanics. White and Asian children in New York City, and throughout the state, tend to score much higher on standardized exams than Hispanics and blacks.
Mayor Bloomberg has claimed that black and Hispanic students in New York City are closing the gap because they've made the greatest gains on their exams. If you look at the percentage of kids meeting standards, black and Hispanic students tended to lag around 35 points behind white students in 2002 on the 4th and 8th grade exams. They're now about 25 points behind whites. So the gap is smaller but still substantial.
But critics caution that these state exams may be meaningless, because they aren't very demanding. On this year's national math exam (National Assessment of Educational Progress, or NAEP) only 40 percent of 4th graders and 34 percent of 8th graders in New York State met the proficiency mark. That's about half as many as the percent who aced their state exams. The Chancellor of the state's Board of Regents has said New York's exams will get less predictable next year as the state begins raising its standards.
There will be more data to wade through in the months ahead. Next month, the federal government will release a breakdown for urban districts so we can see how New York City fared on those national exams compared to kids in the rest of New York State. The feds will also release the results of the national reading test in early 2010.