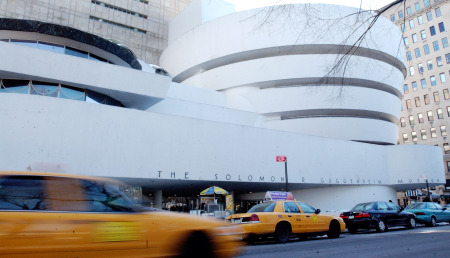 The museum known for its distinct spiral and ramp, which the architect Frank Lloyd Wright said was designed to create 'an atmosphere of the unbroken wave—no meeting of the eye with angular or abrupt changes of form,' turns 50 today.


In honor of the anniversary, visitors to the Solomon R. Guggenheim Museum can go for free. The museum is at Fifth Avenue and E. 89th Street, open from 10 AM to 5:45 PM.


When the museum opened in 1959 Wright's design was met with controversy. 'There were many artists who were opposed to it. They thought it was going to dominate the art,' says Eleanor Goldhar of the Guggenheim Foundation.


Robert Moses, who was then New York City Parks Commissioner, is credited with helping usher the museum over various bureaucratic hurdles. He said at the time: "Frank Lloyd Wright's inverted oatmeal dish and silo with their awkward cantilevering, their jaundiced skin and the ingenious spiral ramp leading down past the abstractions...mirror the tortured maladjustments of our time."


The Empire State Building will glow red tonight in honor of the museum.