Homeless Numbers--All Time High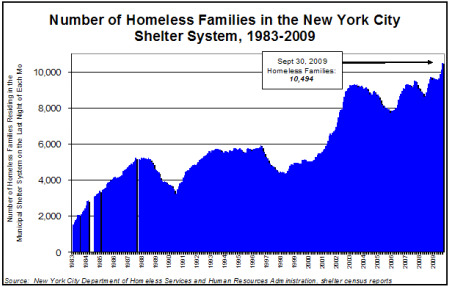 The number of homeless families and single adults in shelters has hit an all-time high, according to a report by the Coalition for the Homeless.

The advocacy group says as of September 30th about 39,000 homeless New Yorkers were staying in city shelters. This includes more than 10,000 families with over 16,000 children. Coalition for the Homeless says part of the problem is families are ending up back in shelter because their rental assistance runs out in two years. Bernadette Miles is a recipient and says her housing voucher expires next month.
I thought the system was designed that I could, one day, be in the position where I don't need assistance anymore, but at this point the only thing that I'm slated to do is go back
into the shelter system, because I don't have any other options.
Robert Hess, commissioner of Department of Homeless Services, acknowledges that New York City and the country are facing hard times, but he says they are responding to the need.

We're doing record numbers of placements, which means record numbers of families are moving from shelter back into the community. Record numbers of families are being diverted and prevented from needing to enter the shelter system, staying in their homes in the community.
The advocacy group wants the city to return to offering families a more generous federal housing voucher that can last a lifetime. The city prefers to give the federal voucher to poor families who remain out of shelter. The DHS says these are extraordinary economic times and the report fails to recognize the city is keeping up with the demand.