Billionaire Mayor Re-Invents Office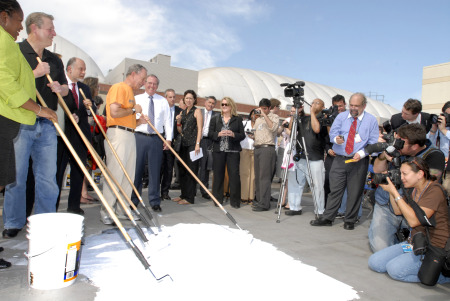 Mayor Bloomberg faces off with his democratic rival Bill Thompson in a live broadcast debate Tuesday night. So far the Mayor, who is once again self-funding his campaign, is outspending his rival by more than 10 to 1. But that is not the only major advantage the Mayor brings to the contest. As WNYC's Bob Hennelly reports the Mayor, during his eight year tenure, has re-invented the way the Office of the Mayor gets his message out.

Reporter's notes:
It was just a year or so after taking office in 2002 that the Mayor's staff began to re-invent the public Mayoralty. Mayors in the past had some press avails in City Hall and an occasional outer borough event. But the Bloomberg team took it to a new level with 4,000 press releases and hundreds of events like this one in Queens in all five boroughs.
Former Koch press secretary and media consultant George Arzt says the Bloomberg team's meticulous attention in shaping these daily events helps to create 'the POTUS' (President of the United States) effect for the Mayor's public persona.