The Walkway over the Hudson is finally open to visitors. The project to turn a 120-year old freight bridge into a paved public walkway connecting Highland, New York on the west bank to Poughkeepsie, New York on the east. It's approximately 212 feet above the water surface and 1.25 miles long or 6,767 feet.
Standing at the halfway point on the bridge you look down on the Mid-Hudson Bridge and get a new appreciation for just how wide the river is.


I admit I'm a little biased towards the Walkway. I grew up in the the Hudson Valley and drove (or was driven) across the Mid-Hudson bridge more times than I can remember. As a child, looking at the rusted structure that ran parallel to the Mid-Hudson I wondered why no one ever used it. My father told me it was a train bridge that was no longer in use. I always assumed steam engines raced up and down the steel trusses of the bridge like a roller coaster.

In reality the Walkway Over the Hudson is the top of the bridge and is wide enough for two lanes of traffic, although this bridge is just for feet.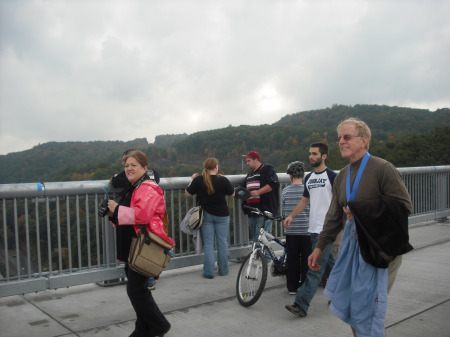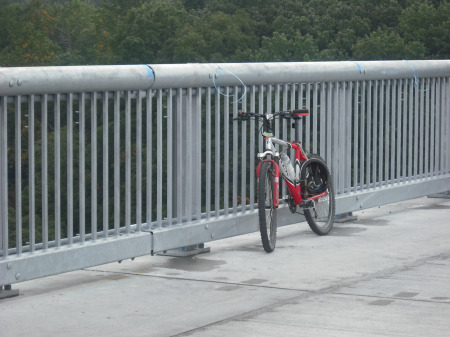 The Walkway's celebratory parade did not disappoint. Town delegations from Dutchess and Ulster county marched across the walkway with homemade banners.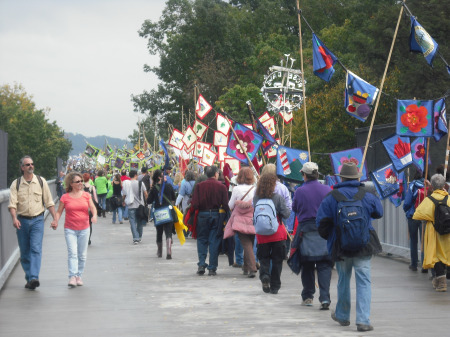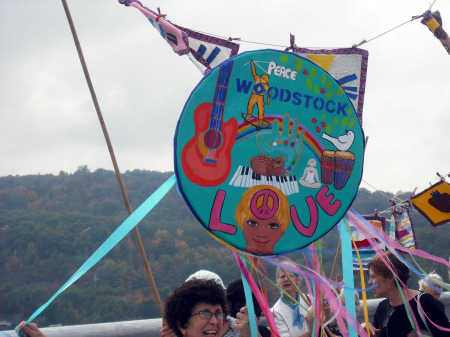 To say the mood was jubilant is an understatement. Marching bands and community groups played. People were singing and dancing and cheering for other towns as they passed one another. I now live further downstream (on the Jersey side) and I forgot what kinds of creative depth exists in the Hudson Valley.
My favorite of the banners were the blue swaths of cloth carried above everyone's head like rippling water with puppet boats sailing on them.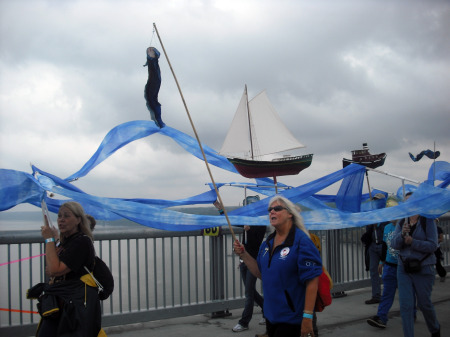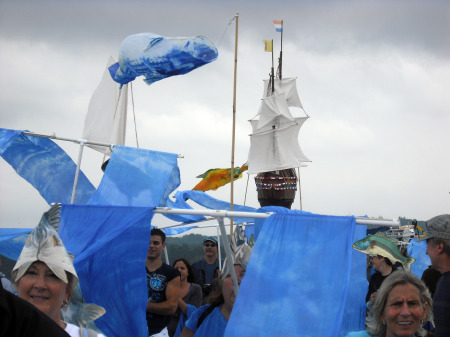 In all it was a beautiful celebration for a new state park and an impressive way to recycle an unused bridge, that should wow anyone who sees it.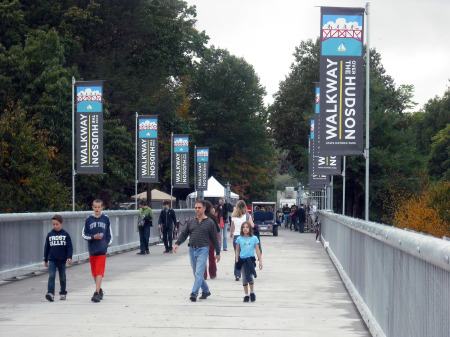 For more information on the Walkway Over the Hudson, visit walkway.org.