Pataki is Hanging Around Albany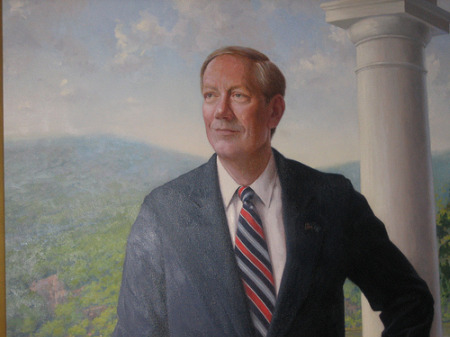 Former Governor George Pataki is now a permanent fixture in Albany. A portrait of the Republican will hang in the Hall of Governors. Current Governor David Paterson, a Democrat, joined Pataki for the official unveiling in the Red Room today.
The former governor said he was happy to be back in the ceremonial governor's news conference room and not have to talk about state finances. 'It is so pleasant to be in the Red Room and not have to be explaining budget cuts or legislative vetoes,' he said.
The former governor offered a plea for support for Governor Paterson who has suffered in polls and through a budget crisis. But Pataki later said that he would not have raised all the taxes that the Democratic governor signed off on. Pataki, who's been considered a potential candidate for the U.S. senate seat, held by Kirsten Gillibrand, was non-committal about his future plans.