Protestors Defend Qaddafi, Fail Geography
New York is full of all kinds of people, but that's especially true during the United Nations General Assembly. And nowhere more than between the barricades at Dag Hammarskjold Plaza. WNYC's Marianne McCune filed this report.
Around noon on Wednesday, the line of protesters included defenders of the Falun Gong religion, Taiwanese who want recognition by the U.N., Native Americans calling for the release of someone they call a political prisoner, and an Iranian woman with fake blood painted all over her body -- reenacting the shooting of an Iranian student during the country's election protests.
And then, right next to each other, were two opposing groups: for and against Muammar Qaddafi of Libya. The leader's critics said family members had been tortured, the country is falling apart, and Qaddafi cracks down if he doesn't like what Libyans say.
They have no access to freedom, no access to free press, no access to free expression.
On the "pro"-side were a handful of Libyan students, who said the state pays for their tuition here. Yousef Deikna says Libya's critics don't know the country.
So inside Libya everything is good. I go visit, I see, I live there. Everything is good, fine, OK. We don't have no problems.
Most of the pro-Qaddaffi crowd were members of the Nation of Islam - some from a mosque in Springfield, Mass. One young man said Qaddaffi offers free health care and education, but he couldn't pronounce Qaddaffi's name. And when asked what country Qaddafi leads, he said:
Africa.
Listen to President Barack Obama's address to the General Assembly: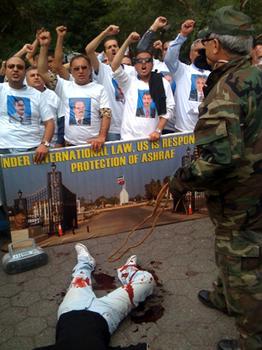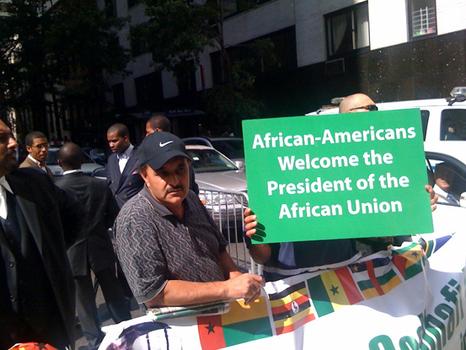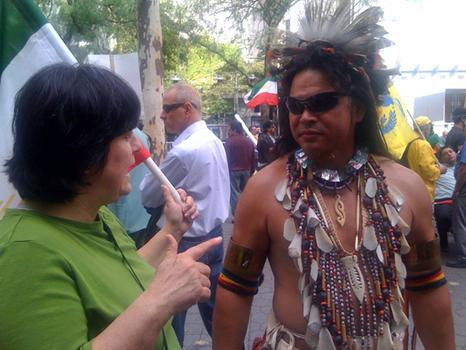 of