Comptroller Candidates Debate Pension Reform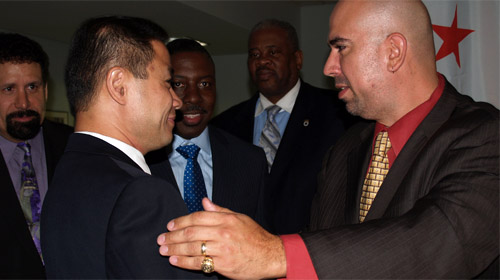 The two remaining Democratic candidates for city comptroller are racking up endorsements and staking out positions as the clock runs down to the runoff election next week. Speaking on the Brian Lehrer Show this morning, rivals John Liu and David Yassky took opposing views on the issue of pension reform. Yassky says it's imperative to consider creating a second tier for 'new' city employees, in which they contribute more to their pension funds.
'Of course we are going to need pension reform if we are going to have a sustainable city budget.'
But Liu says the proposal won't solve the city's budget woes.
'The idea that a new pension tier would help us solve the $5 billion budget deficit that we have to address over the next nine months is simply politicial rhetoric in a campaign season.'
The two city councilmen went straight from their radio appearances to stage back-to-back press conferences on the steps of City Hall.
The city comptroller is responsible for managing tens of billions in city pension investments, approving contracts and auditing agencies.
Listen to the show: