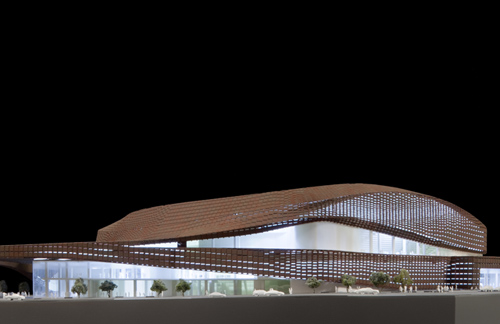 The state economic development agency gave final approval today to a revised plan for Atlantic Yards in Brooklyn.
Listen to our report here:
The gist of the changes is that now developer Bruce Ratner can buy the property, and develop it, bit by bit, thereby reducing the need to raise large amounts of money at a time when no one has much of it. He's also building a replacement rail yard for the MTA that will be less valuable than the one he first promised.
There's also a subtler change you wouldn't notice just by looking at the rendering above, which provides a more up-to-date idea of what the basketball arena, called the Barclays Center, may finally look like. The original architect, Frank Gehry, wanted to build the arena and adjacent buildings all at the same time, smack up against each other, and have them share heating and ventilation systems. Now, since it's unclear when those neighboring buildings will be built, the arena is designed to stand alone--for years if necessary.
The vote was 3-0. The Empire State Development board generally has eight members. But there are four vacancies now, and one member present, Kevin Corbett, abstained because his employer, AECOM, has done business with Ratner in the past.
Compared to three years ago, when the ESD approved an earlier version of Atlantic Yards, board members seemed a bit chastened by the economic crisis and by the relentless opposition that the project has encountered. Mark Hamister asked about a lawsuit that opponents had threatened because the revisions had not been subjected to a full-scale environmental review. Derrick Cephas asked what the likelihood was that the entire project--16 towers with about 6,000 apartments, a hotel and some office space--would ever get built.
Steven Matlin, the special counsel on the project, summarized a report by KPMG that concluded it was 'not unreasonable' to assume the real estate market could absorb that much new housing over the next 10 years, as the developer and planners hope. 'This could happen,' he said.
Then again, it could not. The Council of Brooklyn Neighborhoods commissioned its own report that found the full project will take at least 20 years to complete.
The ESDC is reviewing how much of the KPMG report it will release publicly.