Thompson Counters Criticism, Attacks Billionaire Mayor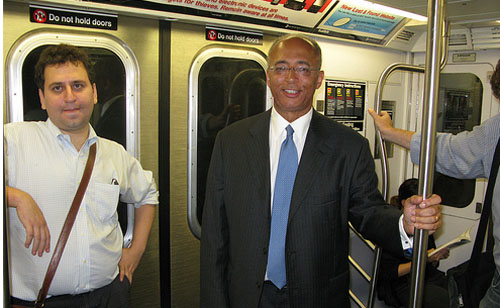 In his first interview since winning the Democratic primary, mayoral candidate Bill Thompson pushed back against criticism that he didn't crack down on City Council spending practices in his role as comptroller.


Thompson told WNYC's Brian Lehrer that there was no way he could have caught Council members' use of fictitious groups to dispense money in their districts.
'It was designed to avoid detection and no matter what you would have done it probably couldn't have picked that up because it got by, not just the comptroller's office, it got by the agencies that put those contracts in place, it got by City Hall.'
The practice was brought to light by a federal investigation into Council finances. Reforms have been implemented since then and three people have pleaded guilty to charges stemming from the probe.
Thompson is making Mayor Bloomberg's vast personal wealth a campaign issue. As the city's comptroller, Thompson manages the city's pension funds and he watched the funds' values drop from $96 billion to $83 billion in just the last quarter of 2008.
'Perhaps since the mayor's people chair our pension boards, maybe they should have shared some of the mayor's own investment advice with the rest of us. I think Mike Bloomberg is the only person in America who's assets went up when all the rest of us watched our 401K go down and our savings and our investments go down.'
Earlier this year Forbes magazine ranked Bloomberg the 17th wealthiest man in the world, with a net worth of $16 billion.
His investments are managed by what can be described as similar to a blind trust that gives him some oversight but has been designed by city regulators to avoid any potential conflicts of interest.