The Race is On...Bloomberg and Thompson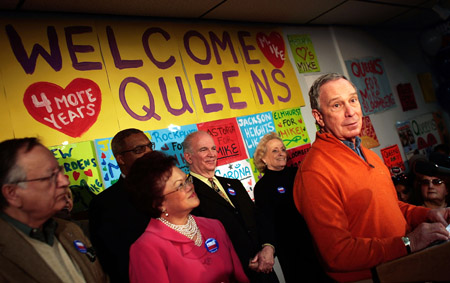 The race for mayor is in full swing, a day after Democrats chose Bill Thompson to take on Mike Bloomberg in November. Mayor Bloomberg wasted no time, greeting commuters in Forest Hills, Queens, and making his case for getting a third term in office.
'This city is a lot better than it was eight years ago, it is going in the right direction, I think people either are or will be after we explain what we've done happy with what we've accomplished and use that and build on it. And they don't want to go back to what it was before.'
Bloomberg campaigned with another three-term mayor, former Mayor Ed Koch, who made his first public appearance since having heart surgery in June. Koch says Bloomberg is the best person to handle the city's financial challenges.
Resident Nathan Malenga says he's weighing the pros and cons of voting for Bloomberg, even though he disapproves the mayor's successful push to change term limits.
'That wasn't cool. On the other hand, he has an agenda, which is a good thing.'
Joethee Lakani says she's not sure Bloomberg should be returned to City Hall.
'It'd be nice to have somebody new to come in. Fresh face, fresh new ideas will be better. Just like we have Obama, it would be nice to have somebody new in the house.'
Tuesday night Bill Thompson had some strong words for Bloomberg in his victory speech.
'You told us, you're an independent above politics as usual. But the fact is you spent millions of your own on your own version of pay to play politics. Eight is enough! (crowd chants 'Eight is enough!')'
While Thompson used his acceptance speech to blast Mayor Bloomberg for changing term limits, Bloomberg says that's not the issue voters care most about.
'They want to talk about how good the school system is, why it is as good as it is, and how we can make it even better. They want to know why crime is down so much, we are going to set another record this year for low crime, and they want to know how to continue on that. They want to know how we are going to continue to create jobs for the middle class.'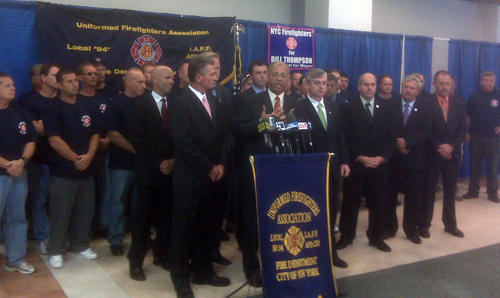 Thompson was with the city's Uniformed Firefighters Union Wednesday to receive its endorsement. UFA President Steve Cassidy said there were several reasons his members choose Thompson over Mayor Bloomberg but high on the list was what he saw as the failure of both the mayor and top FDNY brass in overseeing the Deutsche Bank demolition at Ground Zero.
''Just two years ago two firefighters were killed in a high rise vacant toxic building that was under deconstruction where the New York City Fire Department admitted that they didn't have a plan to fight that fire and did not inspect like they should have.'
Cassidy also said his rank and file felt that Bloomberg has not done enough to keep the City affordable for middle class New Yorkers.
Thompson the endorsement, saying:
'In a Thompson Administration, we're not going to be closing fire houses. We are going to be standing up to those out on the front lines, those who defend us each and every day.'
Today, Fire Commissioner Nicholas Scoppetta announced record response times at the FDNY. He says, so far this year, firefighters are reaching blazes in four minutes, 3 seconds, 13 seconds faster than in 2008. He also says the city's on track to see fewer fire-related deaths.
In the last race for mayor, the union backed Congressman Anthony Weiner in the Democratic primary and sat out the November contest between the Fernando Ferrer and Mayor Bloomberg.