NYC Voters Go to the Primary Polls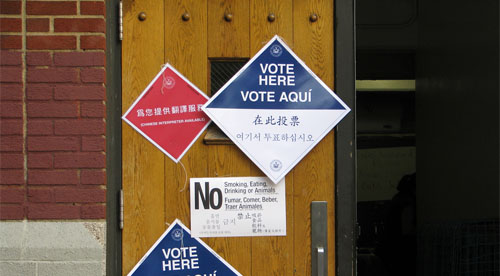 With voter turnout expected to be near record lows in today's primary, those who are showing up say they feel a special responsibility to vote. Om Agrawal, a mathematics professor, was born in India. He says he has voted in every primary and election since he became a citizen in 1986.
'Because it is one of the most fundamental rights of all the human beings for whom it is available.'
Bob Gochfeld, an attorney, says he's voting to keep people he doesn't want out of office. He voted this morning on Newkirk Avenue in Brooklyn.
'People who run for office are self-selected. they're egotists who want to run for office who want to be in office for whatever reason and you sort of have to select among the egotists.'
Joyce Date, a retired hotel worker, says she was about to stay home from the polls today to protest the lawmakers who shut down the state legislature in Albany earlier this summer. But in the end, her conscience got to her and she showed up at her polling place in Flatbush, Brooklyn, this morning.
'I was all disgusted about it--but my heart--you know you can't hurt one person for the other. That's why I did what I have to do.'
Date was born in Trinidad and became a citizen in 1997. She says she's voted in every election and primary since.
In the Public Advocate's race, Marvin Spruck of Brooklyn, said he was supporting the local guy. Despite some doubts about political connections, Spruck thought Bill DiBlasio would do a good job.
'He's smart. He's articulate. On the whole, he's a bright guy. He's ambitious.'
Like many voters, Spruck said he was tired of all the mailings and recorded phone calls. Jason Bijur agreed and said that's one of the reasons he wanted civil rights attorney Norman Siegel to be Public Advocate.
'Norman has such a long track record – and you don't get any mailings from him.'
David Rosen, an anthropologist in Brooklyn, showed up at the polls in Ditmas Park, Brooklyn, with his wife, Tori. Usually they also bring their daughter.
'It's just the family, you know, culture of making sure that we vote all the time and we try to encourage our daughter to do the same thing. She's not old enough to vote, but we started taking her into the voting booth when she was very little and we hope that she will continue to participate in that way.'
In Brooklyn, many voters said they backed local candidates for city-wide office. Rosemary, who declined to give her last name, said she wanted to David Yassky for city comptroller because of what he had done in the Park Slope neighborhood.
'I appreciated his campaign to save the PS 133. If we can save what's here, as far as the character of Brooklyn, I think that's what's important.'
Sarah Kornbluth often volunteers for campaigns but didn't this time. She admitted she didn't know much about the candidates but deferred to the endorsements of the Central Brooklyn Independent Democrats – which backed such non-locals as John Liu, of Queens, for comptroller and civil rights attorney Norman Siegel, for Public Advocate.
'I didn't have a lot of research time myself, so I went with an organization that I felt takes a look at the candidates. So, when I'm feeling a little blind, I follow.'
Valerie Vasquez Rivera, spokeswoman for the city's Board of Elections, says poll workers and monitors say turnout has been very light. She says there have been scattered reports of malfunctions with the city's 40-year-old machines, but she says that shouldn't stop people from casting their vote.
'In the event of a machine break down, voters can vote by emergency ballots, that's essentially a paper ballot.'
If voters experience problems with a machine, they can call 866-VOTE-NYC to report it.
While city election officials are reporting a light turnout, not everyone who is not voting is apathetic about politics. Adam Wiseman of Brooklyn says he is civically engaged as a full-time volunteer for an environmental group but he chooses not to cast a ballot.
'One of the problems with voting is a lot of people feel that their vote is the end of their say for the duration of that term. I think that is where politicians gain their power, really, when people vote and go home and don't take to the streets.'