Candidates in Last Minute Scramble for Primary Votes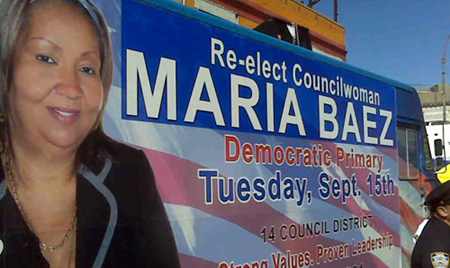 Candidates for political office campaigned hard this weekend ahead of tomorrow's primary election, not just in citywide races but in some local races that might see a change of guard. In the 14th Council District, one challenger, Fernando Cabrera, has secured a number of important endorsements, including from the Bronx Democratic machine. But the incumbent, Councilmember Maria Baez, issued some fighting words at a street fair.
'And we're going to make sure, and we're going to show them, that you can't come in the 14th Council District and you've given nothing to this community.'
Baez has been cited as the Councilmember with the poorest attendance record - a fact she attributes to health issues. Also running is Yudelka Tapia.
City Comptroller Bill Thompson is running to be the Democratic nominee for mayor and stopped by several street fairs yesterday, in the Bronx and Queens.
'We need to say good bye adios to Mike Bloomberg. It is time we put someone in City Hall who will stand up and fight for us.'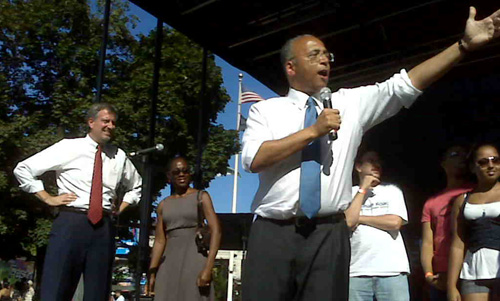 Thompson is running against City Councilman Tony Avella and the two have spent most of their time ignoring each other and instead attacking the billionaire incumbent. Mayor Bloomberg is running as a Republican and Independent and will be up for re-election to a possible third term in November.



Public advocate candidate Bill de Blasio went up on stage at a street fair in the Bronx, where he was introduced by former borough president, Freddy Ferrer.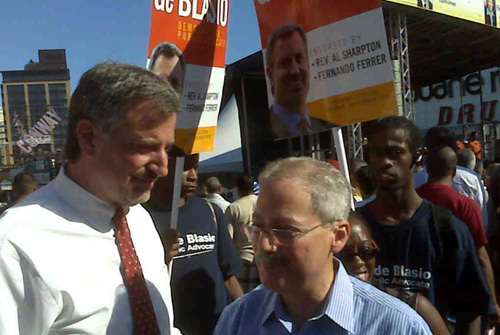 'Everybody knows the work that Bill de Blasio does when Mike Bloomberg hijacked democracy and wanted to run for a 3rd term because he thinks billions can buy everybody. One guy stood up - Bill de Blasio!'
De Blasio is running against fellow Democrats Mark Green, Eric Gioia, and Norman Siegel in tomorrow's primary.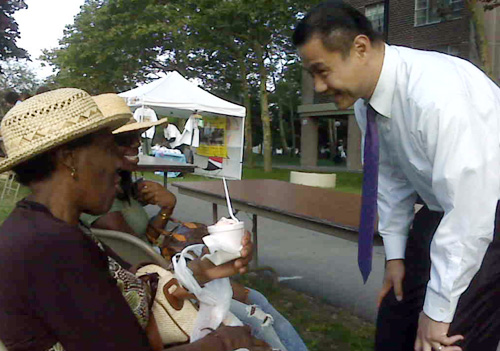 City comptroller candidate John Liu was at an outdoor fair at sprawling Co-op City, in the Bronx. Whoever was in charge of the PA system even gave him a beat.
'I'm running for city comptroller. I'm going to combine my knowledge of the city to work for you and the people of New York as comptroller!'
Meanwhile, another comptroller candidate, Melinda Katz, attended a street fair on Fordham Road, also in the Bronx. They are running against fellow Councilmembers David Yassky and David Weprin.
Congressman Jerrold Nadler was on the Upper West Side, campaigning for Manhattan district attorney candidate Richard Aborn.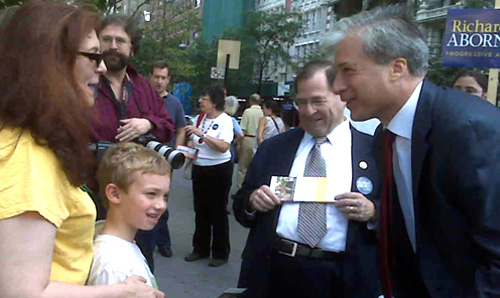 He says the turnout is likely to be very low, since there are no big showdowns. He thinks that puts the pressure on individual candidates.
'Who can bring out their own voters is the most important. That's not a question of who has the most endorsements or who has the New York Times endorsements. It's question of who can get their voters out to vote.'