Candidates in Battle for Bill de Blasio's Open Seat
Council District 39 – the seat being vacated by Bill de Blasio – contains some of the city's most fervent political activists. In a crowded field, two candidates are fighting hard to represent Park Slope, Carroll Gardens, Kensington, and Boro Park. WNYC's Kathleen Horan caught up with Brad Lander and Josh Skaller doing some last minute campaigning.
"Hi how are you? I'm Brad Lander and I'm running for City Council. Now we're in the playground talking to parents about what issues they care about."
Candidate Brad Lander is in Kensington. He's doubling up on events. While walking rescue dogs, he stops to give out ice pops to kids and campaign flyers to their parents.
"We're out, we're knocking on doors. We're in playgrounds. We're at subways. The last few days before the election are when you really just try to be out everywhere all the time."
Lander looks tan from all his time outdoors. His blue button down shirt is tucked in but the sleeves are rolled up. He goes up to a couple sitting on a bench near the handball courts.
"Any issues especially on your mind?"
It takes social worker Amanda Cicarelli and architect Eric Epstein a minute to open up, but they have plenty to say about everything from spotty train service in Windsor Terrace to high taxes.
And like many in this district, development.
Ciccarelli asks Lander what he thinks about the rezoning of 4th Avenue, a six-lane artery that connects Park Slope to the Verrazano Bridge.
"Why is it just garages and brick blank walls? So we're always having that conversation. They could have made this a place, instead it's just forbidding."
Lander lights up a bit, being a city planner himself. He ran the 5th Avenue Committee for a decade, and more recently, the Pratt Center for Community Development.
"It's a good place for some development, right? It's well served by transit. It's a wide street. But we should go in apply an active ground floor use requirement for anything else that gets built there."
Lander's record has a planner has won him some big endorsements like The New York Times, the Citizen's Union, and the Working Families Party.
But across Prospect Park, feisty challenger Josh Skaller is making his presence known. He's working the room at the Park Slope Senior Center -- until he gets upstaged by the afternoon bingo game.
Now he's on his way back the office to call potential constituents to remind them to vote.
Skaller's also focusing a lot on development and more importantly developers in Brooklyn. His campaign flyers call him "the real reformer"
"At the beginning of this race I made a crucial decision - which was not to take any money from developers - or vested big interests in this city - and a lot of people thought that was sort of a silly move to make - real estate developer tend to fund the large portion of political campaigns."
Neither candidate takes money from developers. Skaller, who's won the backing of some anti-development advocates and several labor unions, says he started the trend.
"There are a number of people who now rightly say they don't take big development money either - however they took that position after they seeing how politically successful our position was."
Forty-year-old Skaller looks youngish, even with graying hair.
He's the former leader of the reform club Central Brooklyn Independent Democrats,
His backround is in music, he's a trained composer:
"I ran the computer music studios for a number of years at Harvard University."
"If you could compose a song about this race what would it be?"
"It would be very dissonant…(laughs)...and long."
That dissonance had been pretty consistent. Charges and countercharges have flown – over private schools, endorsements, and even press releases.
In the latest wrinkle, Lander – a supporter of gay rights -- was accused of taking out an ad in an Orthodox Jewish newspaper denouncing gay relationships.
He denies ever taking out the ad to a district that is heavily populated with both gays and Orthodox Jews.
"I was furious when I saw it -I don't know whom did it or why – we instantly called on the campaign finance board to investigate who did it."
But Skaller isn't letting it go.
"Well, we've heard a number of different stories from Brad -so that is one talking point."
And another candidate in the race, Bob Zuckerman, who's an environmentalist and gay rights advocate, is getting attention by sending up his rivals in web advertisement.
"Josh Skaller said that I that he said..."
It's a slickly drawn cartoon rendering:
"...Brad Lander said that I said that he said..."
On Tuesday, voters will sort it all out.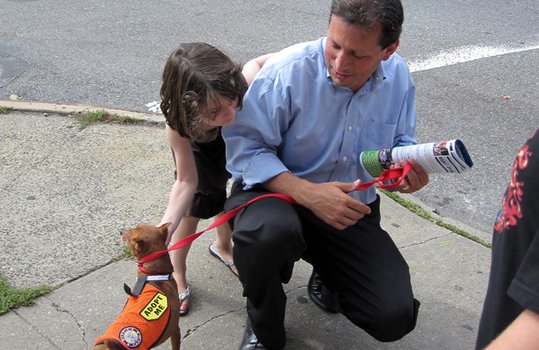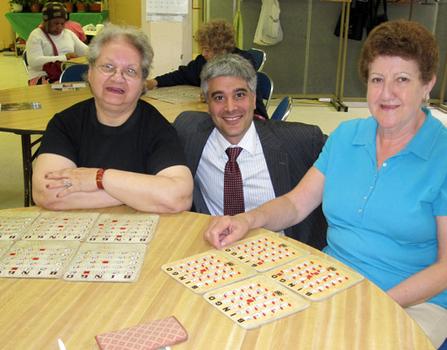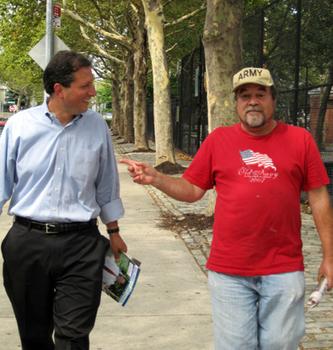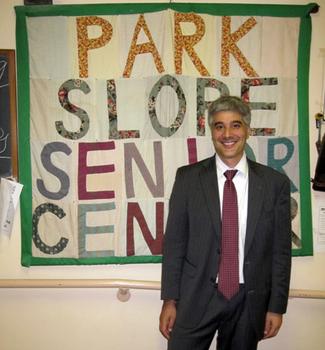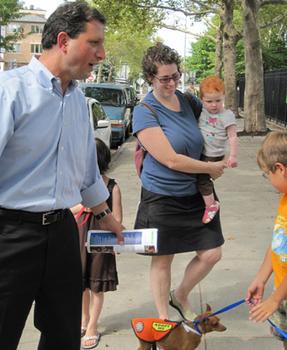 of