A Somber Remembrance on the 9/11 Anniversary
This year, the readers were volunteers who worked at Ground Zero after the towers collapsed. Mayor Bloomberg says their actions buoyed people's hopes.
"No one stopped to ask, if I can only do a little, should I bother doing anything at all? Each act is a link in a continuous chain that stopped us from falling into cynicism and despair."
Former Mayor Rudolph Giuliani also stressed service in his remarks:
"Everybody can be great, said Martin Luther King Jr., because anybody can serve. You don't have to have a college degree to serve. You don't have to make your subject and verb agree to serve."
A new name was added to the victims' list -- that of Leon Heyward, who died last year of lymphoma and lung disease. The city medical examiner's office determined his illnesses were caused by the toxic dust cloud that followed the toppling of the towers. His death was ruled a homicide.
The hundreds of participants in this morning's September 11th ceremony expressed sadness, anger and, in some cases, uncertainty about why they survived and others didn't.
Lisa Coretese lost her brother, Dennis Edwards, who was working at Cantor Fitzgerald in the top floors of the North Tower. She says this year may be the last time she comes to the annual ceremony because she is tired of what she calls the brou-ha-ha.
"There are so many people looking at you and wondering who did you lose? Because I do the same thing unfortunately. I was at a memorial yesterday, out in Suffolk County, and I'm looking and, oh gosh, who did they lose? And are they sad? And are they always sad?"
Richard LoPresti wasn't sure if he should be there. He survived, having fled his office on the 21st floor of the North Tower.
"I don't know what to expect, how I'll be greeted or whatever, you know, because usually survivors of the World Trade Center is not a member of the family of someone who was killed so it's a little different classification."
Jim Tamuccio lost his son Michael in the attacks. His primary emotion on this day? Hatred for the terrorists.
"My hate for these people will be taken to my grave. You can tell me to turn the other cheek. I will not turn the other cheek. these people are animals."
Gezer Cerbone, an elevator mechanic who was working in the twin towers eight years ago today, says he always comes to Lower Manhattan on the anniversary.
"You have to be sad when more than 3,000 people get murdered in front of your own eyes and on the other side of the coin you are happy that you are alive ... It's God's way."
Vice President Joe Biden addressed family members during a break in the reading of the names, telling them there's a special fraternity for those who've lost spouses and children. Biden's daugher and first wife died in a 1972 car accident. He joined families who laid flowers in a reflecting pool on the site where the towers once stood.
Tonight, the annual Tribute in Light will take place. The two large beams of light, symbolizing the Twin Towers, will be visible, starting at dusk.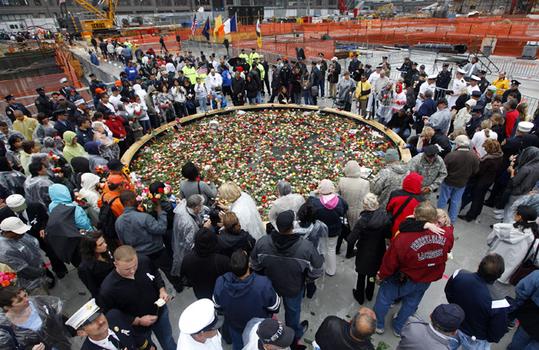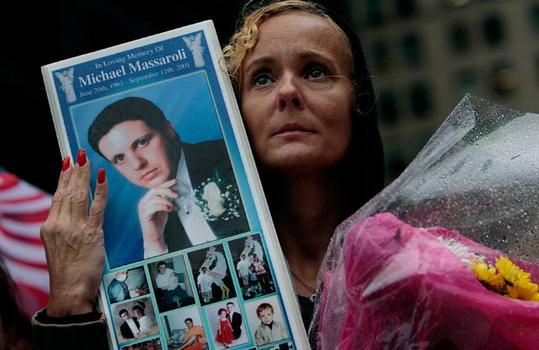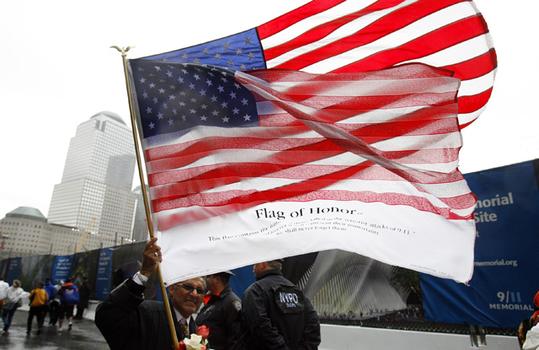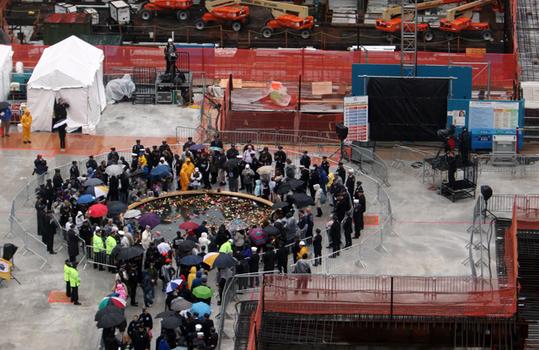 of