Scandal Hovers Over Stewart in 45th District Race
For the last eight years, the largely Caribbean neighborhood of East Flatbush has been represented by Councilmember Kendall Stewart. But the councilmember is fighting to keep his seat after two of his top aides were convicted of embezzling city funds.
It was only last June that Stewart found his office at the center of the City Council's so-called slush-fund scandal. Two aides pled guilty to stealing $145,000 that was supposed to go to non-profits. Stewart says he's innocent, but the issue has motivated some half dozen challengers to enter the race against him. Moderator Felicia Adams, the Editor of Carib World newspaper, raised it at a recent debate, co-sponsored by Whatz Up TV.
MODERATOR: Why should voters trust to send you back to City Hall for a 3rd term?
Stewart says it was his aides who were illegally diverting money from community-based organizations, or CBO's, without his knowledge.
STEWART: These members were not supposed to be involved with CBO's on the outside. And I know many people are involved with CBO's. You don't know what the executives are doing. You cannot really place that burden on the office.
Stewart has led the field in fundraising. His re-election campaign has raised some $65,000. Another candidate, college instructor Sam Taitt, has raised $43,000, while Dexter McKenzie, a physician has raised $49,000.
But in the last few days, one challenger has pulled even with Stewart. As of yesterday, Jumaane Williams had raised just $33 less than Stewart.
Unlike Stewart, who is a property owner with support from the real estate industry, Williams is a community organizer who's worked on affordable housing issues. He's also secured most of the big endorsements: from DC-37, 1199 and other powerful unions.
On a recent afternoon, he went door to door with an aide from the Working Families Party, trolling for votes.

WILLIAMS: You wanna start here?
They walk up a driveway and introduce themselves to John Davis, who's painting the outside of his house. Davis has just one thing on his mind: his 28-year-old son recently got out of prison and can't find a job. Williams pulls out his cell phone and dials a couple of non-profits.
WILLIAMS: (on phone) I remember you said you were working with a program. I think he's particularly looking for work, school, that nature. Can I refer him to you? (Yes you can).
Davis says Williams has his vote.
DAVIS: The young man has impressed me. I mean, right away I told him my situation and he reached out to help. So it's the least I can do to help him.
But Stewart, the incumbent, can still command the troops.
WOMEN: Who is that man? Kendall Stewart! That man with that plan - Kendall Stewart!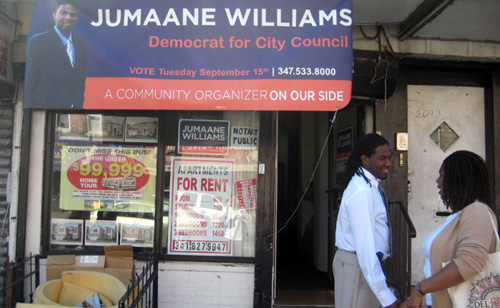 On Labor Day, Councilman Stewart walked in the West Indian American Day parade. As the days until Tuesday's primary dwindle, he continues to make his case.
STEWART: I've brought millions of dollars to Kings County Hospital...
On a recent weekday, over the course of three hours on Flatbush Avenue, a couple things became clear. The details of the slush fund scandal simply don't register with local residents. And hardly anyone knows who the candidates are. Or that there's even an opportunity to vote - for Stewart, or anyone else - next Tuesday.