US Open: Bryans Double Out
by Nate ChuraThe world's #1 doubles team, Americans Bob and Mike Bryan, lost their bid for a second consecutive US Open doubles title Wednesday. The defending champions were bounced from the semifinals by the 4th seeds Lukas Dlouhy and Leander Paes 6-4, 3-6, 7-6(6).
"It was a little frustrating to lose 7-6 in the third," Mike Bryan said after the match. "It came down to the wire and it could have gone either way. We had a few break points there in the third set, which I thought we could have got, but I've gotta tip my hat to them. They played well when it counted. Leander was quick at net. Dlouhy served really well. He was hitting the lines. But we'll be back next year and give it our best shot."
The momentum first slipped away from the Bryans at 3-all in the first set, when Dlouhy/Paes broke the Bryans at 30-40 on Mike's serve. Dlouhy threw up lob return and Mike sent the forehand long. That stroke of good fortune was all Dlouhy/Paes needed to consolidate the first set.
The second set saw a strong reply from the Bryans. When Paes let go a 30-40 clutch serve at 1-2, Mike got it back into play, and a rally ensued. The Bryans got the break when Mike popped up a lob and Dlouhy missed the smash. The twins would eventually close out the second set and take away the momentum.
The third and deciding set lead to a tiebreaker, where things got away from the Bryans. On Bob's serve Paes smacked a forehand winner past Bob, who got to net, for the first mini-break. On the very next point, Mike flubbed an easy volley. A second mini break for Dlouhy/Paes. Soon enough, they lead, 5-0.
Miraculously the Bryans managed to claw their way to 6-6 and get back on serve. But it was a game of catch-up for the twins. At 6-6, Paes serving, Mike almost snatched a volley winner, but the baseline was unforgiving. Then on Mike's serve, Dlouhy/Paes unleashed a series of lobs that allowed Paes to claim the net and poach backhand volley winner to finish the match.
Afterwards, Paes praised Dlouhy's performance in the match and said it was the best he had seen his partner play all season.
"He played with his mind today," Paes added. "He played really sharp. He played the right shots at the right time. On the neutral balls he kept it in play and when he had an easy ball he went for it. When Lukas plays like that I think he's one of the best players in the world."
Paes was born in India; Dlouhy, the Czech Republic. Paes currently resides in Orlando, Florida, and Dlouhy, Monte Carlo, Monaco. Paes is a former world no. 1 doubles player with five grand slam doubles titles and 41 total career doubles titles. He made his first doubles semifinal appearance at the Open in 1993. Dlouhy, ten years his junior -- at the ripe age of 25 -- won his first major doubles title earlier this year at the French Open partnering with Paes and has only 6 career doubles titles to his name.
Mention this to Dlouhy and you get a doubles champion's response."Actually," Dlouhy corrects, "We have 47 [titles] together…Sounds better."
Dlouhy and Paes will play Mahesh Bhupathi of India and Bahamian Mark Knowles in the men's doubles final Friday at 11 am in Arthur Ashe stadium. Bhupathi and Knowles defeated their semifinal opponents Max Mirnyi and Andy Ram in straight sets 6-4, 6-2.
Other wins yesterday included #4 Novak Djokovic, who advanced to the semifinals over Fernando Verdasco of Spain 7-6, 1-6, 7-5, 6-2. Djokovic, serving at 40-0, hit a forehand volley winner to finish off Verdasco.
On the women's side, in the quarter of the draw abandoned by Dinara Safina's early round loss, Yanina Wickmayer of Belgium defeated Ukrainian Kateryna Bondarenko 7-5, 6-4.
(Getty Images)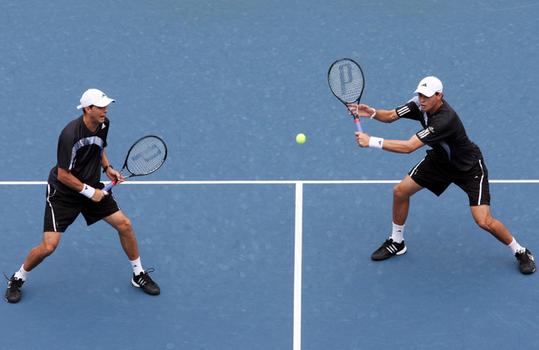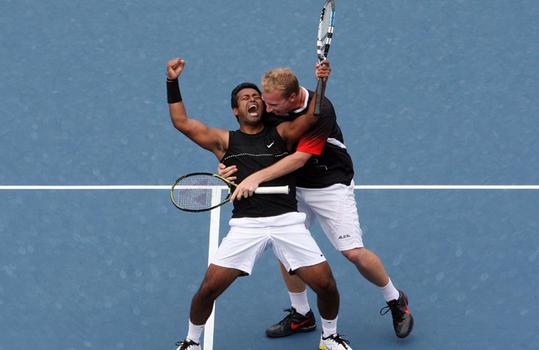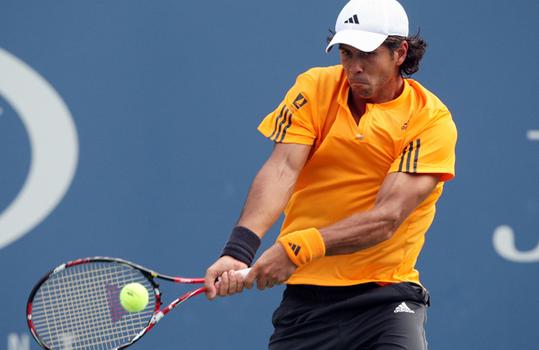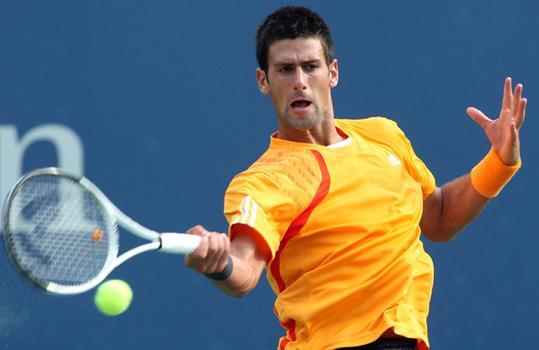 of