The Hot Contest for City Comptroller
Who wants a job overseeing a budget billions in the red and protecting pensions in the age of anxious markets?
Katz, Liu, Weprin, Yassky. That's who.
It turns out three City Council members from Queens and one from Brooklyn are willing to spend millions to get the City Comptroller job that pays $185,000 a year. It does come with a driver ( for the office holder only) as well as a security detail.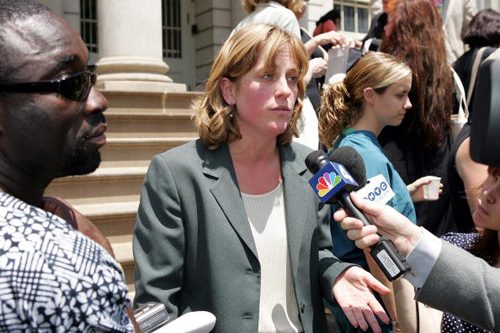 Strategists for Councilwoman Melinda Katz are counting on her status as the only woman running for a citywide office to make the difference in a crowded field of contenders. In her stump speech, Katz cites her role as chair of the City Council's Committee on Land Use and the re-zoning of 6,000 city blocks in all five boroughs. She credits herself with getting 90,000 units of affordable housing in the process. But it is that very role assisting the development boom around the city that prompts critics to say Katz became too cozy with developers. A lawyer by training, Katz was only 28 years old when she was elected to the New York State Assembly. As a candidate, Katz pledges to be tough; she alone has called for pushing to get refunds in fees paid to money managers whose investment picks for the city pension funds fell flat.
She talks to potential voters about the tragic death of her mother in a car accident and how her late father single handedly raised four kids. Katz, who is also a single parent, has literally thrown everything she has into the race, including a picture of her own vintage kitchen stove ostensibly to show she is too busy to buy a new one.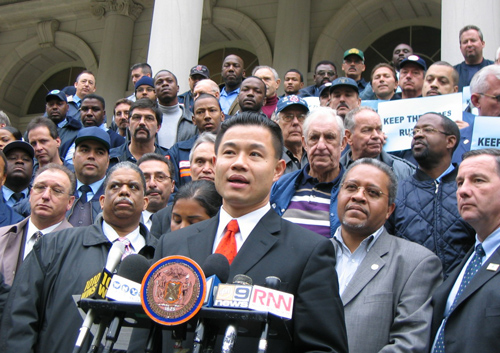 The personal narrative can be a gamble, as Councilman John Liu can testify. Referring to his roots as part of a struggling immigrant family and helping his mother in a sweat shop, Liu took a hit in the press. But he's rebounded with big endorsements, garnering support from Reverend Al Sharpton, the teachers' and firefighters' unions as well as DC-37, the city's biggest municipal union, and the Working Families Party.
Liu made a name for himself as chair of the Council's Transportation Committee, especially when it came to grilling the MTA on its finances and management. Critics say he is better at getting press than real reforms. Prior to winning his Council seat he was a manager with the financial firm PriceWaterhouseCoopers and he used his numbers skill to catch MTA officials, sometimes with Perry Mason-like flair for drama. Liu is the first Chinese American elected to the City Council and this could be a boost at the ballot box.
He has pledged to move the pension funds away from risky investments with private equity firms and hedge funds and more towards a conventional mix of stocks and bonds.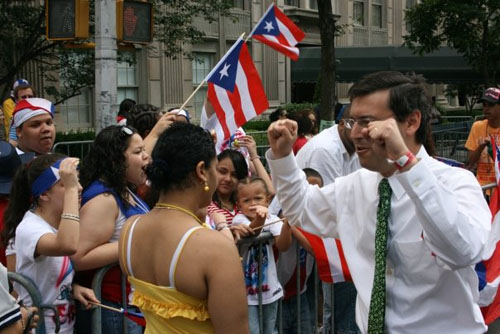 Councilman David Yassky is the only non-Queens candidate, hailing from Brooklyn. Yassky has been endorsed by the New York Times and Crain's. In the recent WABC-TV debate he was the only candidate to call for an end to the City Council's controversial practice of bestowing millions in so "discretionary grants" to community based non-profits. Before the council, Yassky was chief counsel to the House Subcommittee on Crime under then-Congressman Charles Schumer. He also served as an analyst for the city's Office of Management and Budget. He has experience in the private sector as a corporate lawyer working with the financial sector. On the Council he paid attention to economic development writing the Film Industry Job Creation Act. He also led the charge to sue Exxon-Mobil to push along the cleanup of the oil spill in Greenpoint.
But some anti-development activists criticize Yassky for what they say is playing both sides of the debate over the Atlantic Yards project. Yassky counters that he supported the Nets basketball team coming to Brooklyn but opposed the scale of the larger residential and commercial projects.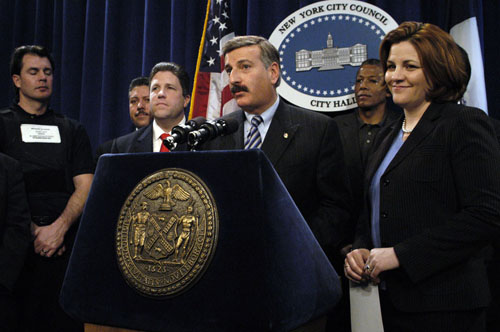 And then there is Finance Committee Chair David Weprin who seems to be having the toughest time standing out. He has proposed establishing satellite comptroller offices throughout the five boroughs and wants to see a commuter tax return to help close the city's looming multi-billion dollar budget gap.
Weprin has hammered Katz and Yassky for backing Mayor Bloomberg and Speaker Christine Quinn's controversial push to repeal term limits. Both he and Liu opposed it. While trailing in the polls, ironically it is Weprin who has a name long linked to State Democratic Party power politics. He has won the support of former Mayor David Dinkins and former Bronx Borough President Fernando Ferrer. Weprin has the backing of the 50,000 member police union and several other unions. He has worked for decades in public finance and investment banking, serving as deputy State Bank Superintendent during the Cuomo Administration. For years as chair of the Council Finance Committee he was a key player in the annual budget deal between the Bloomberg administration and the council.
On primary day one of these candidates must get at least 40 percent to avoid a run-off.