Asian Americans Vie for Seat of Trailblazer
In November, 2001, John Liu made New York City history by becoming the first Asian American to be elected to the City Council. Now, as Liu sets his eyes on the office of city comptroller, a handful of Asian-American candidates are hoping to follow his footsteps into politics.


John Liu has enjoyed significant popularity throughout his two terms as a councilman for the ethnically diverse District 20 that includes Flushing. And at a recent candidate forum attended by over a hundred people, John Choe reminded everyone of his ties to Liu.
CHOE: If you like John Liu, you will love John Choe. Who agrees that John Liu has done a great job as council member? Yes, because he does not think in the traditional term of what it means to be a council member.
Choe is Liu's chief of staff, and he counts the incumbent's accomplishments as also largely his own. The 39-year-old native of Korea entered the race at a relatively late stage and trails other candidates in fundraising. But he's got the backing of Queens County leaders, as well as major labor unions including 1199. Like his current boss, Choe speaks eloquently of the issues facing the community, such as the need for support for downtown Flushing's many immigrant business owners.
CHOE: We have to move the Small Business Solution center from Jamaica to Flushing. Or even create a new center here in Flushing. They have to speak Chinese, they have to speak Korean, they have to speak Spanish, all the languages that we speak here.
In a community as diverse as the 20th District, no candidate will be able to win next week's primary along racial lines. Political observers say the district's voters are made up of about one-third Asian-American, one-third white, and one-third black and Latino. Candidate S.J. Jung says what the community needs is unity.
JUNG: We might have come in different boats, but now we're all in the same boat. So let's work together, and let's chart a new course for our community.
Jung is a businessman and a leader of a local Korean-American community center. The 45-year-old talked to the audience about practical solutions to the community's most pressing issues, like transportation.
JUNG: We have to improve the efficiency of 7 Train, and I think we have to fully utilize capacity of the Long Island Rail Road, and we have to adopt rapid bus transit, and we even have to explore the possibility of establishing ferry system from Flushing to midtown Manhattan.
Jung has the most campaign cash on hand, and enjoys the backing of labor unions as well as the influential Working Families Party. Even if he loses next week's Democratic primary, he may still run on the Working Families ballot line.
For District 20's sizeable Korean-American population, the candidacies of John Choe and S.J. Jung reflect a strong yearning for political representation. But Chinese-Americans here will tell you that they want nothing more than having one of their own succeed John Liu. Which is why many Chinese-American businesses have thrown their financial support behind Yen Chou, who has opted out of public financing. And as the only female candidate in the field, Chou is not shy about touting her gender identity.
CHOU: As you know really well, what's a woman? Women govern their house, right? Govern their home. I will govern my community by using my compassion, my strengths, and to make sure everything will be safe.
An educator from Taiwan, and a member of a local community school board, Chou has built a limited platform around education. And that's where James Wu sees an opening. A native New Yorker born to Taiwanese parents, Wu is a district leader who has lately been working to increase his exposure in the community. At the forum, Wu attacked Chou's education record.
WU: One of our members here who's running for city council is a member of the Community Education Council. This individual hasn't shown up to a third of the meetings, is late for over another third.
Negative attacks like this one have been raised time and again on the campaign trails. A fifth Democratic candidate and civic leader, Isaac Sasson has been accused by his opponents of anti-immigrant campaigning. Meanwhile, John Choe has been called a North Korean sympathizer for his work in a group that promotes unity of the Korean people. And there are persistent allegations that S.J. Jung actually lives in New Jersey. Still, whoever wins on September 15 will likely face a formidable Republican opponent in Peter Koo, the owner of a successful chain of drug stores in the district who has a great deal of name recognition.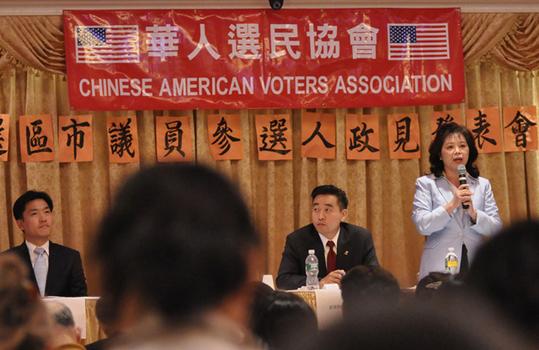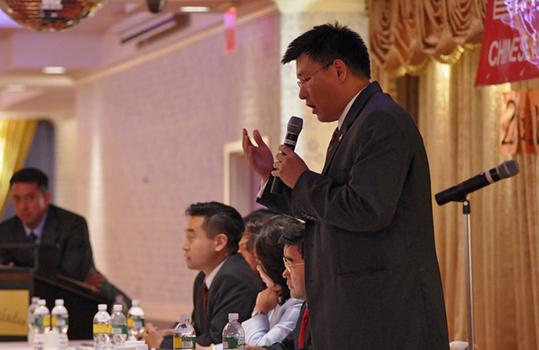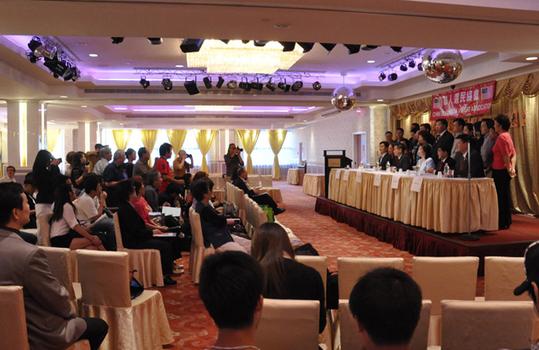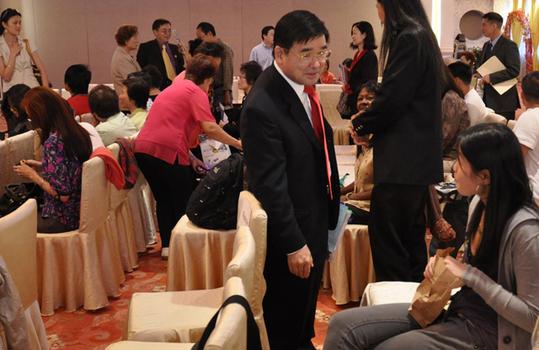 of