US Open: Diversifying the USTA
Ten years ago, Serena Williams, all of 17, won the US Open at Flushing Meadows, Queens. in doing so, she became the first African American woman since Althea Gibson in the 1950's to win a Grand Slam. Her older sister Venus followed in 2000 with her first of five Wimbledon victories. With the Williams sisters' ascendancy to the top of the rankings, and earnings, in tennis was SUPPOSED to come a deluge of African American players. But that hasn't happened. It continues to be somewhat lonely at the top for Venus, Serena, and James Blake.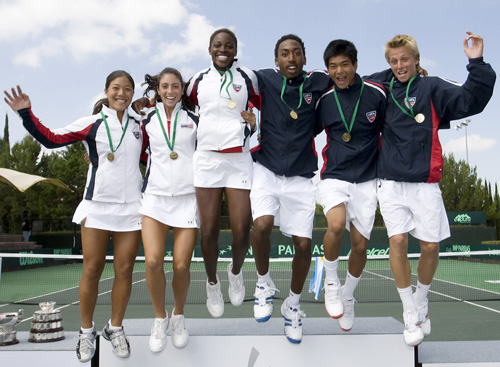 Enter Kevin Clayton, the United States Tennis Association's chief diversity officer. He's been charged to make the USTA look, as he puts it, 'more like America,' from the top down, from marquee events like the US Open, to local USTA leagues across the country. I asked him what challenges the USTA faces in bringing more Serenas and James into the highest levels of the sport, and into the tennis fan base.
Kevin Clayton is the chief diversity officer at the United States Tennis Association, which runs the US Open and amateur leagues throughout the country.
Pictured above:
Kristie Ahn, from Upper Saddle River, N.J., who won three matches to qualify for the 2008 US Open and was the youngest player in last year's main draw
Christine McHale, from Englewood Cliffs, N.J., who won the 2009 USTA Girls' 18s National Championship and earned a wild card into the 2009 US Open's main draw
Sloane Stephens, from San Pedro, Calif., who reached the girls' semifinals at this year's French Open
Evan King, from Chicago, who won the 2009 Easter Bowl and will play for the University of Michigan this fall
Raymond Sarmiento, from Fontana, Calif., who took third place at the 2009 USTA Boys' 18s National Championships
Denis Kudla, from Arlington, Va., who won the Boys' 16s titles at the 2008 Dunlop Orange Bowl.