Quinn Responds to 3rd Council District Challengers
Council Speaker Christine Quinn took a break from campaigning for re-election in the 3rd Council District race to sit down with reporter Kathleen Horan. WNYC extended the mic so Quinn could respond to the criticism leveled at her by challengers Maria Passannante–Derr and Yetta Kurland in the story below.
About the term limits controversy, Quinn says she was motivated to support it because of the recession:
"When I cast my vote to extend term limits from two terms to three last fall, I did that well aware that there were some New Yorkers who disagreed with that decision. But I did it then and believe in the decision now because at a time of tremendous economic upheaval like the one we're in now I think New Yorkers have the right to have a choice when they go to the ballot booth in September and in November of whether they want to keep their same leaders, or bring in new ones…I think the choice and opportunity to have choice and true fiscal leadership is one that is right and fair to give New Yorkers now."
And when candidate Passannante–Derr accused her of turning moderate after once being a reformer, Quinn says her record speaks for itself:
"I am extraordinarily proud of my record over the past 10 years, working on behalf of this district and behalf of the city. It is a progressive record, a record that's been endorsed by Naral, by Planned Parenthood, by The League of Conservation Voters, by the Empire State Pride Agenda, by Citizen's Union, some of the most progressive organizations in the city of New York. If you look at my record as someone who brought one of the toughest clinic access laws to NYC to make sure women can exercise their right to choose, I've drafted and passed legislation that brought equal rights to domestic partners – both straight and gay – as it relates to city services…I've passed legislation that has expanded tenants rights in the city of New York to a level never seen before. I think that's one of the reasons I was endorsed by Tenant's Pac…so people can say whatever they want about other people's records, but when you look at the fact of my record, it is a very progressive and effective record, not just for this district but for the whole city."
For more information about Quinn's position on the issues, visit her web site




Two Challengers to Quinn's 3rd Council District Seat

Two of the democratic candidates in the City Council's 3rd District race, Yetta Kurland and Maria Passannante-Derr, decided to run before they thought they'd be challenging an incumbent. Now they're stumping from Canal to West 55th Streets on Manhattan's West Side to get voters' attention before the primary, hoping to unseat none other than the speaker of the Council, Christine Quinn.

WNYC's Kathleen Horan has more on the two contenders:

Maria Passannante–Derr is handing out campaign flyers with volunteers on 9th Avenue in Hell's Kitchen during rush hour. The hot topic on the minds of many who stop to talk is term limits
"Voters tell me their vote was stolen and I agree with them. One of the things I will do if I am elected a council member is I will fight for a referendum because its not over yet. We could still have one."
The repeal of term limits is personal as well. It allows Speaker Christine Quinn to run for a third term and makes Passannante-Derr's bid for the seat feel a bit like a an uphill battle.
She says she wants to run because of her work on the community board and what she sees as a family tradition of public service.
She used the only debate (Sponsored by the Villager Newspaper) attended by Quinn last month to come out swinging.
"This election is about an arrogant incumbent–turned council into rubber stamp for a right wing Republican mayor."
Passannante-Derr also had very harsh words for the speaker about her support of the repeal of term limits. She says that's what the debate was for.
"It wasn't a tea party. This was a time to discuss the issues, discuss them hard and hold the incumbent to her record."
She didn't always feel this way about her opponent:
"When she first came in 10 years ago, she was a reformer. We were all pleased to see her as the first out lesbian to be speaker of the Council but now has that desire for higher office I think she has become more moderate for one thing and involved with the developers."
She often finds herself explaining to voters who aren't really clued in about the race.
"How do you feel about Christine Quinn sheparding term limits through City Council?"
"I haven't really followed her. I don't really know that much about her. Just all of a sudden now before the primary there's all these things for I don't know what comptroller/D.A.. Hard decision when you have a lot of different candidates out there."
She says sometimes it's disappointing when she meets people who aren't yet focused on the primary but she refuses to be discouraged.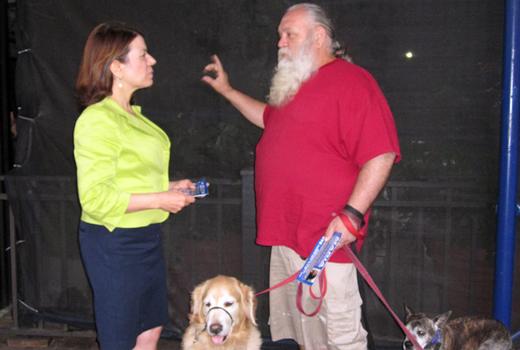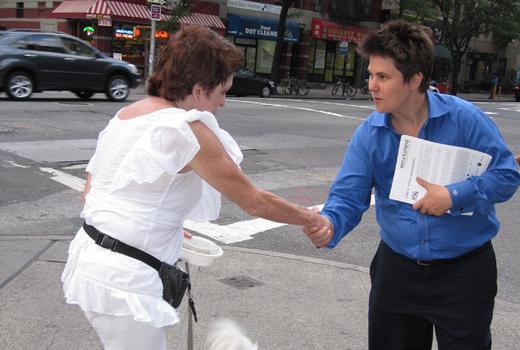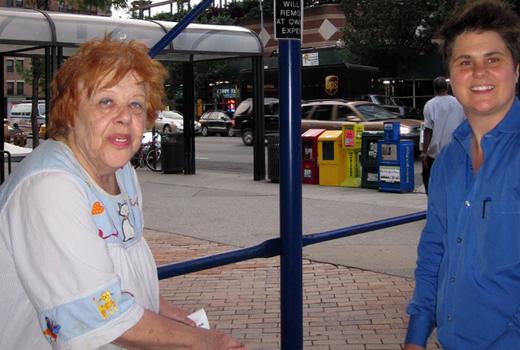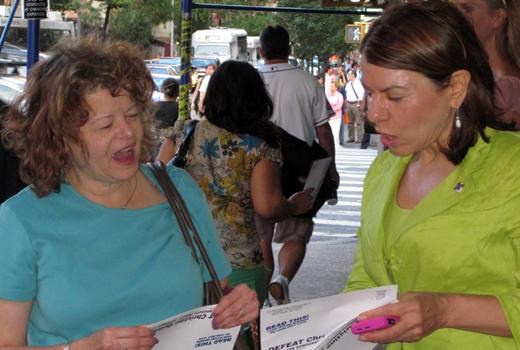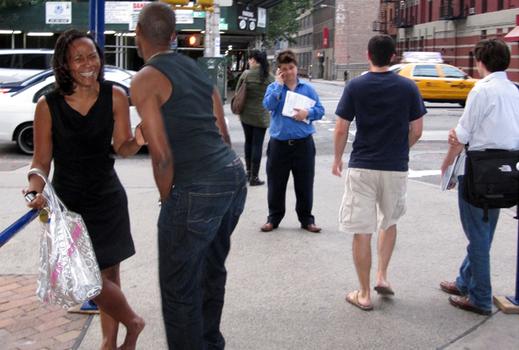 of