Two Challengers to Quinn's 3rd Council District Seat
WNYC's Kathleen Horan has more on the two contenders:
Maria Passannante–Derr is handing out campaign flyers with volunteers on 9th Avenue in Hell's Kitchen during rush hour. The hot topic on the minds of many who stop to talk is term limits
"Voters tell me their vote was stolen and I agree with them. One of the things I will do if I am elected a council member is I will fight for a referendum because its not over yet. We could still have one."
The repeal of term limits is personal as well. It allows Speaker Christine Quinn to run for a third term and makes Passannante-Derr's bid for the seat feel a bit like a an uphill battle.
She says she wants to run because of her work on the community board and what she sees as a family tradition of public service.
She used the only debate (Sponsored by the Villager Newspaper) attended by Quinn last month to come out swinging.
"This election is about an arrogant incumbent–turned council into rubber stamp for a right wing Republican mayor."
Passannante-Derr also had very harsh words for the speaker about her support of the repeal of term limits. She says that's what the debate was for.
"It wasn't a tea party. This was a time to discuss the issues, discuss them hard and hold the incumbent to her record."
She didn't always feel this way about her opponent:
"When she first came in 10 years ago, she was a reformer. We were all pleased to see her as the first out lesbian to be speaker of the Council but now has that desire for higher office I think she has become more moderate for one thing and involved with the developers."
She often finds herself explaining to voters who aren't really clued in about the race.
"How do you feel about Christine Quinn sheparding term limits through City Council?"
"I haven't really followed her. I don't really know that much about her. Just all of a sudden now before the primary there's all these things for I don't know what comptroller/D.A.. Hard decision when you have a lot of different candidates out there."
She says sometimes it's disappointing when she meets people who aren't yet focused on the primary but she refuses to be discouraged.
"Isn't that amazing that some people don't know who their Council member is?"
Passannante-Derr says her experience at the grassroots level separate her from her democratic challenger, Yetta Kurland. But they actually have more in common than not. They're both lawyers. They both fought for tenant's rights issues and raised nearly $88,000 in campaign donations.
Within days of each other, Kurkland is handing out campaign flyers on the same block in Hells Kitchen -outside the Manhattan Plaza Complex.
She has short spiky hair and closes the cuffs on her dress shirts with cufflinks.
For those you that grew up in the seventies, she looks sort of like a modern day "Monchichi" –and younger than her 41 years.
"That's me, I'm Yetta."

(voter:) "You're running against Christine Quinn?"

"I'm running to restore our voice in local government."

(voter:) "Ok, that's kinda hard she's head of the City Council."

"That's true."

(voter:) "I have to read a little bit about you. What's your background. What have you done like anything so far?"

"I'm an educator. I founded a school. I'm a civil rights attorney, tenants rights attorney."
Carol Stanis, the voter she's speaking to says affordable housing will be most on her mind when she's in the voting booth. She lives in a rent stabilized apartment with no light, but is afraid to move somewhere that's not stabilized.
(voter:) "I'm glad you're out…didn't even know I had an alternative."
"That's what we gotta get out, that's what we gotta let people know…"
Kurland interacts easily with the people she meets on the street.
Like many aspiring politicians, she appears to have an easy time remembering names of men and women she's met only once. Being an animal lover, she's also is gifted at remembering the names the of voter's dogs. The campaign flyer she's passing out is centered around a picture of her and her partner Elizabeth, with two pet greyhounds sitting on their Chelsea stoop.
Teresa Castro says it's the human interaction she's had with Kurland that's secured her vote:
"You know what the crazy thing is I never really until today thought about what a city councilman does…I'm embarrassed to say. All I know is I met Yetta and I spoke to her and she spoke to me as a genuine person… she seems down to earth."
Kurland and Passannante–Derr say they'll be working double-time to get their potential constituents to realize the primary is only a week away, and to vote!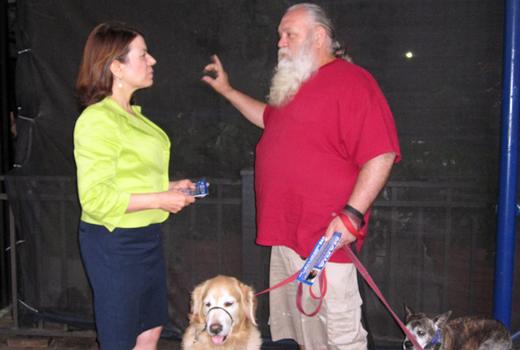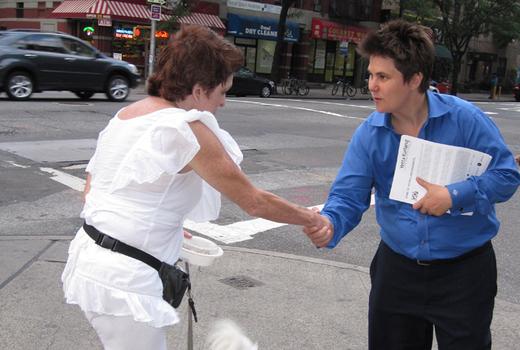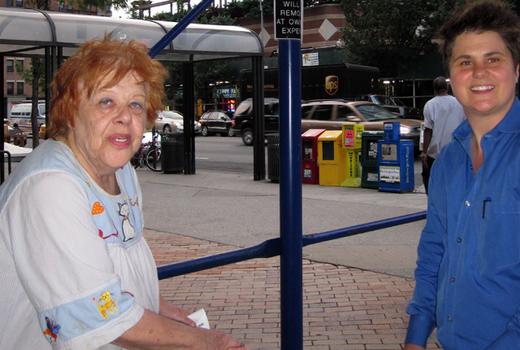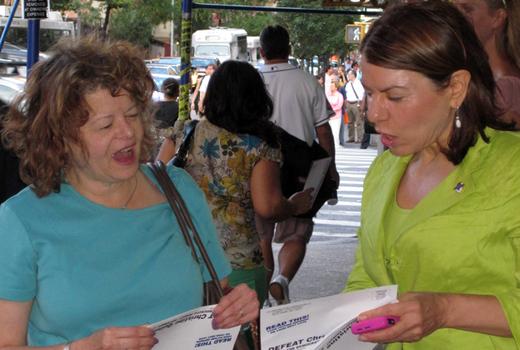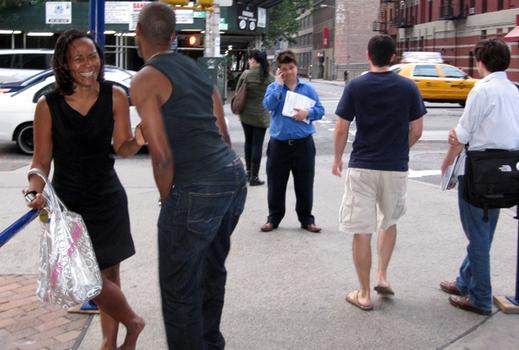 of