US Open: Tennis Apprentice
by Nate Chura
If television were ever to consider a tennis version of the hit NBC reality series The Apprentice, a different Donald would host the show…Donald Dell.
Dell is a former US Davis Cup captain and founder of Pro Serv Sports Management Agency, one of the first full-service sports marketing and sponsorship agencies in the world. A few of the many sports stars Dell has managed include tennis greats Arthur Ashe, Jimmy Connors and Ivan Lendl, and basketball star Michael Jordan. Dell was also a friend of former New York State Senator Robert Kennedy, and an advisor to his 1968 presidential campaign. He was on the plane with Kennedy when the Senator learned President Lyndon Johnson would not run for re-election. Dell has written a new book called, Never Make The First Offer (Except When You Should) Wisdom From A Master Deal Maker. It's published by Penguin Group.
Listen to Dell talk about his inspiration for the book:
Dell is considered by many historians to be one of the major figures who brought about "open" tennis, the modern incarnation of the game, where players have the opportunity to earn millions of dollars in prize money. Hall of Fame tennis journalist Bud Collins cites Dell as a major force behind the professionalizing of tennis.
"Donald made a statement," Collins recalls Dell's message. "'My players will go nowhere where there isn't prize money.' So people had to realize that it was going to be a professional game."
Another instrumental figure in the advent of the modern game was tennis icon Jack Kramer. During the late sixties and seventies, Dell and Kramer helped form the Association of Tennis Professionals (ATP Tour).
Listen here for Dell's take on Kramer and the pro game before the Open era:
Dell likes to talk about the beginnings of Michael Jordan's storied career. His favorite trivia question is, where was Michael Jordan in the 1984 NBA draft? Here's Dell providing the answer:
Now, let's get out of the pages of a book, and history, and on to the story that was written on Friday at the 2009 US Open. Notable wins yesterday included American Tayor Dent's comeback from two sets to one down against Ivan Navarro of Spain, 6-4, 5-7, 6-7, 7-5, 7-6 (11-9). Dent, returning to the Open for the first time in four years, after three back surgeries, looked none the worse for wear. He hit 121 winners, including 20 aces, and committed 50 unforced errors before the epic four-hour, nine-minute five-setter was complete. He hit a slice backhand down the line from the ad court for a service return winner on match point. Afterward, Dent commandeered the microphone from the chair umpire and thanked the crowd.
"I just wanna say," Dent exclaimed, "you guys are unbelievable! I love it here! Let's go!"
The American will face Andy Murray in the third round next.
Rafael Nadal arrived on Arthur Ashe Stadium with his knees untaped, and moved as if he had brand new wheels under him in his late night win against Nicholas Kiefer. He was tested by Kiefer, but got by him in four sets. All the top 16 seeds in the men's draw have advanced to the third round, the first time that's EVER happened at the US Open.
Also, Francesca Schiavone of Italy knocked out 8th seeded Victoria Azarenka from Belarus, 4-6, 6-2, 6-2. After getting off to a good start, Azarenka's game left her when she needed it most. The story was in the unforced errors. Even though Azarenka's first-serve percentage was up at 80 percent, she managed to hit 46 unforced errors in the three-set match. The fiery Schiavone quickly seized the opening to advance into the round-of-16. She will play China's Na Li on Sunday.
Meanwhile, Kim Clijsters had no trouble blasting through fellow Belgian, Kirsten Flipkens, 6-0, 6-2. Clijsters, who's come out of retirement, faces her first big challenge of the US Open when she meets Venus Williams tomorrow to fight for a spot in the quarterfinals.
(Getty Images)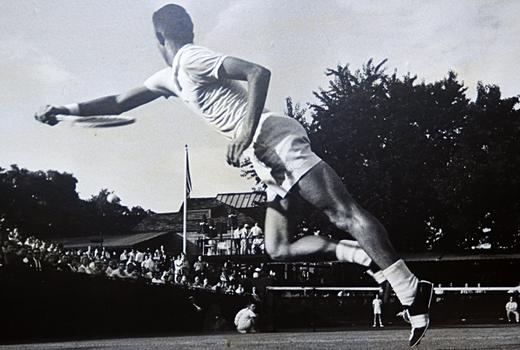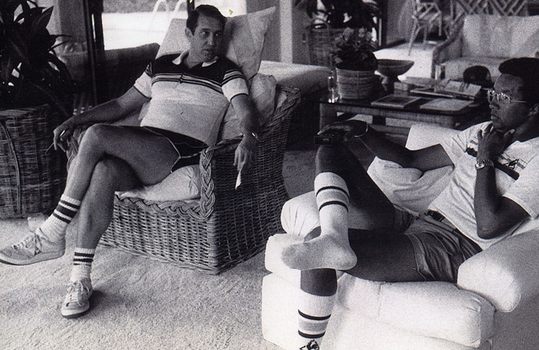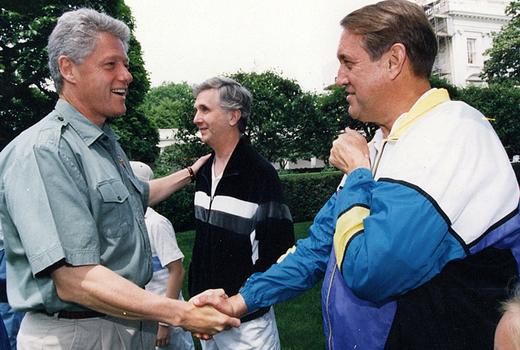 of