US Open: How To Survive the US Open (Fan, Not Player)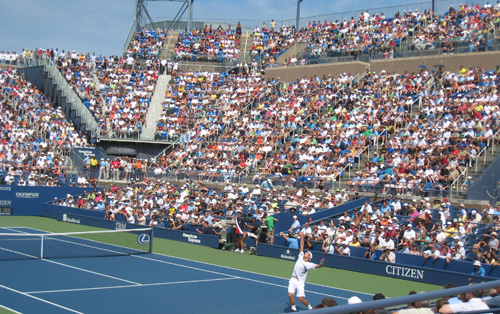 Attending the US Open can be a bit like spending the day in Grand Central Terminal.  It took me nearly ten minutes to work my way from the admission gate to Arthur Ashe Stadium.  I had to dodge and weave past thousands of other fans, especially as I got near the food court.  Thank God I wasn't trying to catch a train. I would have missed it.
If you've got tickets for day sessions this Labor Day weekend, and have never been to the US Open before, here are some tips to survive the crush and actually see some tennis.
Get there early.  Ten o'clock is good.  Slather on the sunblock.  Buy a schedule of matches for $4.  Plot your day.
Find a court featuring players you're interested in, and plant yourself there.  I recommend Louis Armstrong Stadium or the Grandstand.  During this first weekend of the Open, there are still plenty of top players who can be seen there.  On Saturday, the lineup includes #4 seed Novak Djokovic against American journeyman Jesse Witten, Fernando Verdasco vs. Tommy Haas (try to get seats close to the baseline for this one, so you can hear Haas muttering to himself), and the Williams sisters playing doubles.  Not a bad way to spend what will be a beautiful, sunny September afternoon.  By sticking to one court, you avoid the navigational hassles of getting to the other, outer courts. 
Get a good seat!  If you like being THISCLOSE to players, to experience the power, speed, focus and beauty of a professional athlete, willing their bodies to move in ways you and I will never achieve, then find a seat behind the baseline, or on it, with a good enough angle to see the player in the opposite court.  If you like watching the way players construct a point -- the angles they achieve, and where they're placing their serve in their opponent's service box, and how they move to a ball -- find seats a little bit higher up, so you can get that perspective.  Just know that you may miss out on having American comeback kid Taylor Dent splatter you with sweat from the wristband he tossed into the third row.  (Wait, maybe that's a good thing.)
Bring your own food!  It saves money (lots of it), and time on looooong lines. 
Stay late.  Even if it's doubles, and you don't like doubles.  There's nothing quite like the late summer night vibe at the US Open.  Everyone's giddy, aware of this last gasp of warmth and sunlight before the air cools and the leaves fall and we all have to buckle down at our desks once again.  Soak it up.