Today in History: Peekskill Riots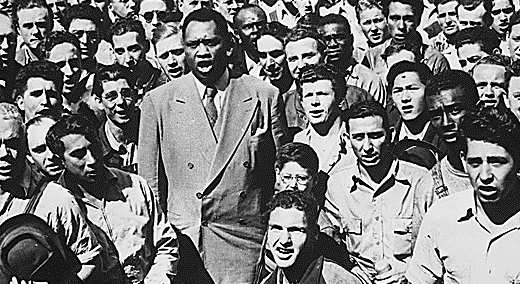 "It was a huge crowd. I think 10,000 people. A small group of people at the gate were shouting at us 'kikes, nigger lovers, go back to Russia.' There was a policeman there with a barricade and so they didn't stop us and we all drove in. We said, 'See it's America and the concert took place.'
Seeger recalls that the concert which featured the virtuosic singer Paul Robeson, an outspoken African American and political activist on the left went well. Seeger says he sang three songs, one of them he'd just penned, 'If I had a hammer' and then Robeson sang for an hour. There had been some fear that the concert would be disrupted because a week prior the stage and set up crew had been chased off the location by local residents who thought the concert was unpatriotic. But, as Seeger said, they had come back the next week and been allowed to perform. But, because of the threat of violence, Robeson was surrounded by people on every side in order to protect him. Still no one was prepared for what followed as the musicians and concert goers left the event in their cars. As he tried to drive away and take a road that went north, Seeger says he was directed by police to take a different small road.
'And around the corner was a pile of stones. Each about the size of a tennis ball.'
A young man threw a stone at the car.
'Around the next corner was a pile of stones on the right and another young man throwing them at close range with every car passed. Every single window except the rear window was broken at least once. There must have been 10 or 15 piles of stones.'
Seeger says the attack was premeditated and organized and it shocked him. He shouted to a policeman to do something, but the officer just told him to keep driving and did not stop the stone throwers.
"Fifty years later, a man in his sixties said, 'I was a teenager then and I was standing on a corner in Peekskill then when a policeman drove up and said, get in the truck, we're going down to Ossining beach to pick up stones to throw at the commies.''
Seeger was in the process of building his house at the time and he took two of the stones that had landed in his car and incorporated them into his fireplace.
Listen to the entire Pete Seeger interview:
Tonight at the Paramount Theater in Peekskill, NY there will be a Celebration of the Legacy of Paul Robeson at 8:00 pm.