Over the course of its two-week run in Queens, the U.S. Open tennis championships are believed to generate about $420 million in economic activity for New York City. That's according to an eight-year-old estimate by the city comptroller's office. Many sports economists question such big numbers, saying they're overblown. But there's a different kind of influence the U.S. Open has that can't be overrated, and that's its effect on the environment.

GARZA: This grand slam is two weeks. We have 700,000 people come to this facility.

Rita Garza is senior director of corporate communications at the United States Tennis Association, which runs the U.S. Open.

GARZA: It's a lot of volume in a short amount of time.

That means lots of media, and their TV trucks and laptops, drawing energy. Hundreds of staff, printing out programs, stat sheets, and press releases. and thousands of players and fans, eating and drinking.

GARZA: We sell about 500,000 plastic bottles, between our water and our iced tea and Gatorade and things like that. And sell about 20,000 aluminum cans. That's a lot.

Garza and I are standing in one of the many hallways that lace through the guts of Arthur Ashe Stadium, the main showcase court at the Billie Jean King National Tennis Center. She just finished showing me the loading dock, where the USTA has installed a new chute and compactor just for recyclables. It's done so because this year, for the first time at the U.S. Open, the USTA is setting out recycling bins throughout its entire 43-acre site, to collect plastic bottles and metal cans. In the past, the organization relied on its waste carting company to recycle, trusting it was picking the materials out of the garbage. Another first: the USTA is recycling the 18,000 to 20,000 plastic tennis ball containers used at the Open.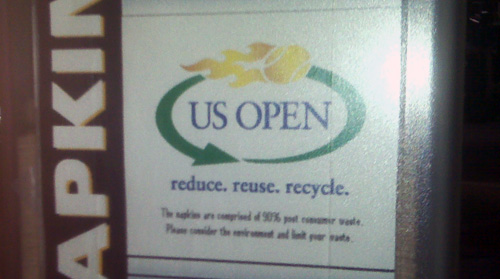 It's just part of a comprehensive 'green-up' plan the USTA has been developing over the last two years, with the help of the environmental advocacy group, Natural Resources Defense Council and the prodding of one highly-influential person in the world of sports.

HERSHKOWITZ: Billie Jean King, the tennis legend, reached out to NRDC after the tennis center was named for her.

Allen Hershkowitz is a senior scientist at NRDC, and he directs its sports greening initiative.

HERSHKOWITZ: She felt that, now that the tennis center had her name on it, it needed to be a socially responsible operation.

So, starting in 2007, the USTA started reviewing its operations, top to bottom, to see how it could reduce its carbon footprint. In that time, it's cut its energy consumption, bought utensils made of corn starch, instead of petroleum and started an environmental awareness campaign for fans. This year's efforts include increasing the recycled paper content of paper products, and making sure 10 percent of the vegetables and fruits used at the Open were from local farms. The USTA is also piloting a composting program.

One key element of a tennis match that seems pretty resistant to eco-friendly changes -- or ANY changes, for that matter -- is the ball itself. Jason Collins, global business director of Wilson Tennis Balls, says the last big revolution in the tennis ball was in its color.

COLLINS: I'm embarrassed to say that tennis balls were white, and in 1978 we changed them to yellow.

Ninety-eight thousand balls are used during the Open. Most of them will get re-used in tennis clinics at the tennis center, but they can't be recycled. Collins says it's not feasible to recycle a tennis ball like you would a plastic bottle, breaking it down and re-shaping it into something new.

COLLINS: From a finished product point of view, once the felt is on it, because you have adhesives under the felt, it makes it very complicated to re-use.

Collins says Wilson is looking into other sustainability initiatives. One of them involves the ball container. Wilson started making it out of 25 percent recycled plastic about two years ago.

The environmental movement is 40 years old. Collins says it took a while to engineer a pressurized can using recycled plastic. Okay. But the timing of the recycling program itself at the U.S. Open raises more questions. New York City residents have been required since 1993 to recycle metal and plastic. The USTA started doing it with a pilot program last year. It would seem to be a no-brainer, at a big sports event, where plastic bottled water and sports drinks are common, for an organization to collect them. The USTA's Rita Garza says recycling seems simple, but it actually posed complicated organizational challenges:

GARZA: We hire several thousand temporary employees, and that becomes the staff that empties receptacles and gets them to the proper place. And then our waste hauler, we had to change how our waste hauler did their business, in terms of frequency of pickups, and where that waste hauler would take that recycling. So all of that was, we didn't know!

NRDC's Allen Hershkowitz concedes the environmental movement has been late to the game when it comes to focusing on sports. But he says the USTA, and the U.S. Open, have been aggressively making up ground to reduce environmental impacts, and raise fan awareness.

HERSHKOWITZ: I'm happy they happened now. I wish they happened a long time ago. But the good news is that, foolish is the person who does nothing because they can only do a little. We're starting, and I think they've taken a great big step.

And more big steps are being promised. The USTA's Rita Garza says next year's goals are to recycle tennis ball cans at the tennis center year round, get USTA local organizations to start conserving energy and recycling, and, ultimately, to have other Grand Slams follow in the U.S. Open's smaller carbon footprint.

(Getty Images)