City Schools Score More A's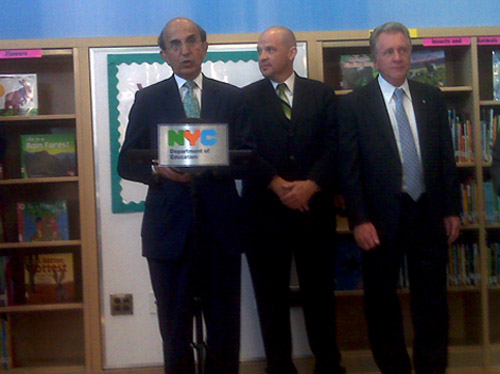 Eighty-four percent of the city's elementary and middle schools made enough progress last year to earn an A on their report cards. That's more than double as many as last year, when 38 percent earned A's. Chancellor Joel Klein says that doesn't mean all of the schools had high test scores, just that more students did better.
KLEIN: We want to make clear that that reflects they met their progress targets. Doesn't mean by any stretch of the imagination that those are schools that don't have a lot of improvement ahead of them.
The schools showed improvement because math and reading scores went up this year, reflecting a statewide trend. The state education department has said it plans to make the exams more rigorous. Chancellor Klein says he supports that.
Meanwhile two schools in Harlem and Brooklyn that the Chancellor planned to close, until he was sued by the teachers union, got A's this year. Last year they earned an F and a D.