Democrats Face Off in Primary Debate, But Target is Clearly Bloomberg
The two Democratic mayoral candidates vying to prevent Mayor Bloomberg from winning a third term squared off in their first debate last night.
City Councilman Tony Avella took City Comptroller Bill Thompson to task for taking campaign cash from developers and money managers who also do business with the city's pension funds. Thompson forcefully denied any quid pro-quo existed.
Both men saved their toughest rhetoric for Mayor Bloomberg who they criticized for overturning voter backed term limits, and favoring moneyed interests over those of average New Yorkers. Both men called the lack of progress at Ground Zero a national disgrace and blamed Mayor Bloomberg.
Asked by WNYC's Brian Lehrer about the NYPD's stop-and-frisk policy, Thompson said it's just one tool the department uses, and needs to be managed.
THOMPSON: What we're seeing is that 88-percent of the people who are stopped have committed no crime, have done nothing wrong. When people feel targeted, when people feel singled-out then there is something wrong ad there needs to be closer monitoring of it and we need to make sure it's not be being overused or misused.
Avella was even more critical of "stop and frisk."
AVELLA: Well I'm going to stop the practice period. And what I'm going to do as Mayor is appoint a Deputy Mayor for Human Rights. This city, civil liberties, civil rights, are under attack in this city.
On Bloomberg's handling of the swine flu outbreak, Thompson agreed with Avella, calling it "a disaster."
THOMPSON: Parents were left with no information. There's was no real time information that was provided to them. Rumor ran the system. Some schools closed, other schools didn't. And there was no rhyme or reason.
Thompson and Avella did argue once. When Thompson compared his campaign to President Obama's grass-roots effort, Avella ridiculed the description.
AVELLA: The truth is, my opponent is getting huge amounts of money from Wall Street, from the money managers, of the pensions he supervises. His is not a real grassroots campaign.
Avella has raised significantly less money than Thompson, who's heavily favored to win next month's primary, though both men's spending is dwarfed by the tens of millions of dollars laid out by Bloomberg.
Brian Lehrer, one of the questioners at the debate, did an analysis of the two men's performance: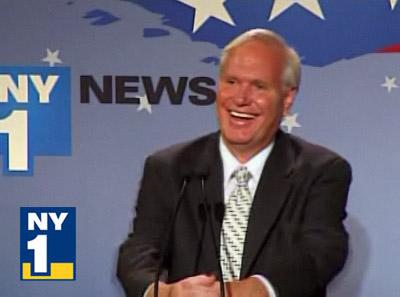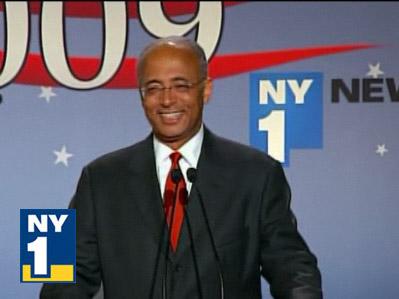 of