Comptroller Candidates Face Off in First TV Debate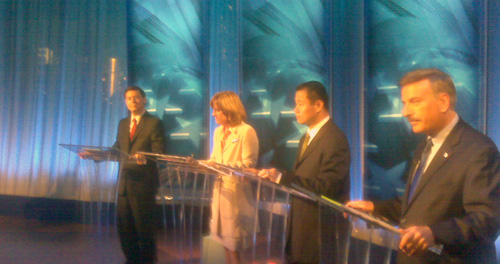 Listen to the debate: The four Democratic candidates vying for City Comptroller Bill Thompson's job have faced off in their first official TV debate, sponsored by the city's Campaign Finance Board.


For most of the hour, it was public policy ho-hum. The Democratic field that consists of three current City Council members from Queens -- John Liu, David Weprin, Melinda Katz -- and one from Brooklyn -- David Yassky -- each worked to define themselves on their own terms.
Thanks to the Albany deal that restored mayoral control of city schools, the next city comptroller will have new financial oversight for the more than $20 billion Department of Education budget. Councilman John Liu says he'd zero in on hundreds of millions of dollars in no bid contracts.
Liu: 'Finally the Comptroller has a say in the single largest budget item in our City's budget. I will use the audit powers to review the contracts particularly the no-bid contracts with an eye towards saving millions of dollars for the schools, for the classrooms.'
All candidates had plans to help close a projected $5 billion shortfall next year. Councilman David Weprin says between water rate and sales tax hikes, city residents are tapped out.
Weprin: 'I think the answer really here is to bring back the old commuter tax . When we had a commuter tax, people that spent their day in New York City benefited from services, whether it be police or fire, transportation, sanitation. They should all pay a fair share.'
The comptroller oversees five pension funds, currently worth more than $90 billion dollars, and how to keep the pension funds growing in a time of economic crisis will be a major challenge. Councilwoman Melinda Katz says she'd take a hard look at private equity firms that made bad investment picks, but still netted millions in fees.
Katz: 'I would start in going back to those companies and saying to those companies, 'You want to continue investing from our city. You want to make sure that you continue with your funds to get our money? Where are the fees that you got from the city of New York? Give them back and then we can continue negotiations.''
All candidates suggested new ways for the city to tighten its belt. Brooklyn Councilman David Yassky says the Council should end its long standing practice of distributing hundreds of millions of dollars to favoured non-profits.
Yassky: 'I think the process of letting Council members distribute discretionary funds is a bad idea, too open to waste and abuse.'
On the last question, WABC moderator Dianah Williams asked each candidate to grade Mayor Bloomberg's performance and the field got to mix it up without the aid of well rehearsed stump speech snippets. Councilman David Yassky bristled at grading.
Yassky: 'He has done a good job.'
Moderator: 'Grade?'
Yassky: 'He has done a good job.'
Councilwoman Melinda Katz wouldn't play along either.
Katz: 'No, I think he has done a decent job.'
Councilman John Liu was quick with the red pencil.
Liu: 'A in the first term, B in the second term -- up until the extension of term limits and than an F right after that.'
Councilman David Weprin finished up, trying to use the moment to define the field.
Weprin: 'He was doing a B until he overturned term limits, which I strongly opposed becauseI thought the public should have had a right to say, unlike my two opponents Ms. Katz. and Mr Yassky.'
Yassky, Katz, Weprin and Liu will face off in the September 15th Democratic primary for Comptroller. If no candidate gets 40 percent of the vote, there will be a run-off election two weeks later.