There are 127 Shopping Days Before Christmas
Christmas shopping is probably the last thing on your mind right now, unless you are a buyer who stopped by The New York International Gift Fair, where store owners met their wholesale suppliers this week. For WNYC's Main Street series, reporter Lisa Chow went to the fair with a Brooklyn boutique owner who has a shop on Smith Street. She found that small retailers who have survived the economic shakeout are cautiously optimistic.
Listen to the whole feature:

REPORTER: Here's the task for gift store retailers this season: figure out what nonessentials are essential. Charles Branstool owns Exit 9 gift stores—one on Smith Street in Brooklyn and another in the East Village. He went to the Javits Center and walked through thousands of booths to meet wholesalers and check out new products.
BRANSTOOL: Ok, this is our top vendor. They have a lot of really innovative and creative items that are sometimes serious, sometimes playful.
REPORTER: Branstool's Brooklyn store manager, Lexie Zimmerman is holding something that looks like a kitchen utensil—soft stainless steel wires dangling from a handle. Turns out it's a head massager.
ZIMMERMAN: I ordered 720 of these.
BRANSTOOL: 720 units? Can we break that up, maybe into smaller shipments that we stagger?
ZIMMERMAN: No because we're going to run out. And it's a $7 Christmas present. And we're going to sell more than 700. I guarantee it.
BRANSTOOL: Ok.
REPORTER: Zimmerman convinces Branstool to go ahead with the order because in this case, they're buying a product with a track record in their store. With new products, Branstool is more cautious.
BRANSTOOL: We buy a little bit, and then test it in September, October, November. If it hits well, then we got into it deeper.
REPORTER: Branstool's been coming to this show since 1995.He says a few years ago, the trade show was so big, it filled up the Javits Center and three piers near 55th Street and the West Side Highway. This year, there was overflow but only one pier was necessary.
BRANSTOOL: A lot of my vendors have dropped out of the show.
REPORTER: Jules Vertrees is a sales representative at NPW, a UK based vendor.
VERTREES: These shows are incredibly expensive to do. $30 to 40,000 for one show. That's for the actual booth. We have a company that comes in and builds this beautiful display. We have to pay union workers at the Javits Center. We have to fly six of us from London, France, Colorado office. All of our food and cocktails. We're in New York. We're Australian.
REPORTER: Vertrees says that fortunately for NPW, which sells gifts that retail for less than 20 dollars, they made a record number of orders this year, 200 in a day.
BRANSTOOL: They've definitely changed their product to be a cheaper price point. That I've noticed for sure.
REPORTER: Branstool agrees to buy trays of lip balm in mini plastic cupcakes. He also orders small bacci balls, for people to play in their office. But he's not sold on the hand puppet tattoos for kids or the salt shaker on wheels. Branstool has a 10-second rule. If he doesn't get the point of the product within 10 seconds, neither will his customers.
BRANSTOOL: No I don't like that.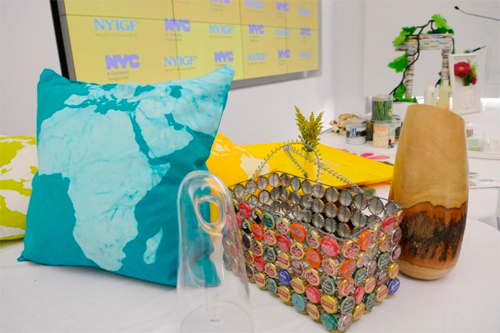 REPORTER: Branstool chats with a vendor he's done business with before, Karen Alweil, who's selling kitschy Asian-themed bags, among other things.
BRANSTOOL: Has it been a good show for you?
ALWEIL: The last day and a half have been great.
BRANSTOOL: Yeah.
ALWEIL: Everybody seems to be in a good mood. I don't know what the totals are because I haven't added anything up but the thickness of the pile is big. I'm just like, thank you.
REPORTER: Alweil says in some cases, retailers are actually expanding.
ALWEIL: I heard earlier today from somebody, 'Oh my competitor closed. Now I don't have to worry. I can carry baby in my store.' A couple customers have said to me, 'Oh last man standing. All lines are open to me now.'
REPORTER: Now the question is, can the last man standing stay standing? Branstool says he'll probably know by Christmas whether he has to close his East Village store.
BRANSTOOL: If it's as bad as it was last October, November, that real dive that the economy took, then that might be enough to break us there.
REPORTER: There are 127 shopping days left, before December 25. For WNYC, I'm Lisa Chow.
++++++++++++++++++++