UNDP Report Reveals Unemployment, Malnutrition in Arab World
Seven years ago, the United Nations conducted a study of human development in the Arab world. Now it has released a follow up and there's not a lot of good news for the 330 million people in that region. Some of the low points: unemployment in Arab countries is over double that of the rest of the world, malnutrition in some places is on the rise and there's inequality in wealth.
Adel Abdellatif was part of the U.N. team that published the 'Arab Human Development Report 2009: Challenges to Human Security in the Arab Countries.' He joined guest host Andrea Bernstein to talk about the problems facing the Arab world – as well as highlight some potential solutions.
Listen to the whole interview here:

Here's an excerpt of the conversation:
Andrea Bernstein: Americans think of Arabs as some of the richest people in the world. Arabs are some of the richest people in the world, so it's a bit of a shock to hear that a lot of the people in these countries are living in poverty under very difficult conditions.
Adel Abdelatif: Actually you will find that most of the Arab countries are falling in the middle income countries or the low income countries. So their incomes actually are much lower than the countries that you hear about. And this image, of course, the report is not trying to work on this image because in the region it is known that there are high income countries and low income countries.
But there are some challenges that are facing all of them. Like the question of climate change. It is facing rich countries as well as poor countries: desertification and lack of fresh water. Actually, most of the Arab countries -- around nine of them, they have water stress.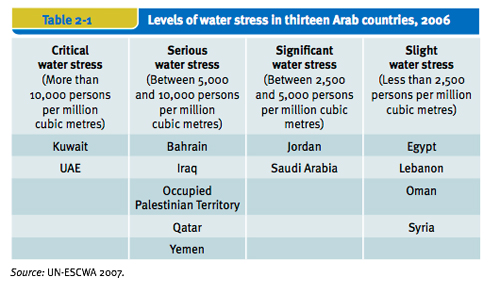 A country like Kuwait, it depends on 97% of its water coming from desalination. Which means that, in the future, without oil income, all these countries will have to find a solution to provide water to their population. If they can't do that, they will have to be environmental refugees or immigrants, they will have to leave their countries.
Read the report here