DC 37 Endorses Bill Thompson for Mayor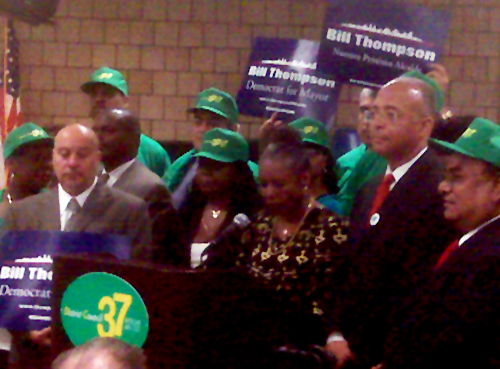 City Comptroller Bill Thompson is getting a boost in his bid for mayor. He picked up the endorsement of the city's largest public employee union. DC 37 Executive Director Lillian Roberts says Thompson can count on its 175,000 members and retirees throughout the campaign.
'We may not have the money but we have ourselves and we have a vote and it is our time now.'
Thompson says he believes he won the union's backing this time, because the city is increasingly unaffordable for too many New Yorkers.
'It was about a New York City that values the middle class, that understands that working New Yorkers is what makes New York great, not just wealthy New Yorkers, not just Wall Street. Those who make the city go each and everyday.'
DC 37 retiree Loretta Jones says Thompson will help make the city more affordable and she'll do more than just vote for him.
'People like myself will hit the streets. I was a grandma for Obama. I spent two weeks in Florida driving all over the state. So I plan on taking all my efforts and bring all that expertise because I am still a warrior.'
The union endorsed Mayor Bloomberg in 2005, but says this time, it was put off by the mayor's call for layoffs and his approval of billions of dollars in private contractors.
The mayor says he didn't want to make any promises to the union that he couldn't keep. The Bloomberg campaign has released his responses to DC 37's candidate questionnaire. The union has declined to do so for Thompson's questionnaire. The union and Thompson deny that he made any promises in exchange for the union backing.