Bronx Tops in Poverty and Unemployment, 14th in Stimulus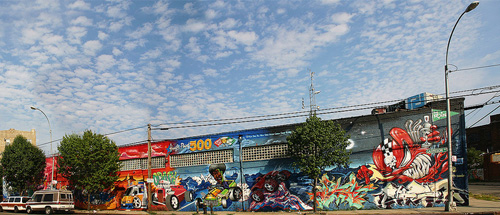 Under the federal stimulus bill, areas suffering economic distress are supposed to get the most help. But while Bronx County has the highest unemployment and the most poverty in New York, 13 other counties are getting more stimulus funding per capita. That's according to the most extensive compilation of stimulus funding to date, by the non-profit news organization ProPublica.


At the Point, a community development and arts organization in Hunts Point, summer campers were gathering to leave on a trip to Connecticut the other day. Summer camp is one of the things this group does. Located in an old bagel factory on a well-kept residential street, it also serves breakfast, fights for environmental justice, and runs a community theater.
Terry-Sepulveda: 'So this is a black box theater, it's pretty large, it's flexible.'
Kelly Terry-Sepulveda is the Executive Director. Like all non-profits, the Point has been under economic stress. So she applied for a National Endowment for the Arts stimulus grant
Terry-Sulveda: 'Just to keep the lights on. Our utility bills are: whoa!'
The project is also keeping six people in their jobs. According to data compiled by ProPublica, the Bronx has gotten $258 million from the stimulus from eight federal agencies. The list doesn't include all stimulus spending – only that which the federal government has tracked down to the county level. That's about half the money awarded through July.
The data show a lack of correlation between a county's economic need, and the money that's been spent in it. The Point is located in the poorest congressional district in the nation. But when you look at the list of New York counties receiving stimulus funds on a per capita basis, the top counties getting funds are Cattaraugus in Western New York, Albany, and Manhattan. The Bronx is 14th.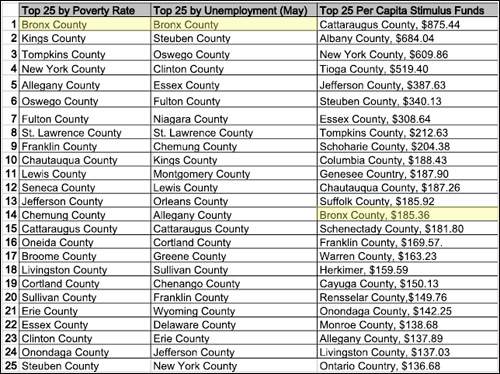 Terry-Sepulveda: 'My pitch is more needs to come.'
Congress agrees. The stimulus bill specifically directs funds to hard-hit areas.
Terry-Sepulveda: 'Here there are a lot of challenges, and non-profits do a lot to keep neighborhoods alive, in ways that aren't always tangible'
A state spokesman says the database doesn't paint the whole picture. The stimulus also has increased food stamp and unemployment benefits. And in those categories the Bronx is getting more, per capita, than some of the counties further up the list.
And, newstat says statewide the most economically distressed counties have 22 percent of the population, but are getting 29 percent of recovery act highway funds.
But Tim Gilchrist, the adviser to Governor Paterson who's informally known as New York's "Recovery Czar," acknowledges that getting money to the Bronx has hit speed bumps. Building roads in the Bronx isn't as simple as in upstate counties. And there are ways the stimulus bill itself limits targeting.
Gilchrist: 'One of the things the governor has us working on is job training of individuals for green jobs.'
President Obama says that's a priority. But making the law work to make that happen isn't so easy.
Gilchrist: 'We're trying to leverage three different programs to train unemployed people to go to work on weatherization or solar panels or other green energy jobs, but we don't have a set of money that the Governor can use for job training the way that he wants to try to target in an area.'
Radhika Fox is the federal policy director for the anti-poverty group Policylink.
Fox: 'It's low-income people that have been hurt first and hurt worst.'
Fox says if you look around the country, there are only a few programs that are effectively targeting stimulus funds to the hardest hit areas, which she calls key to a sustained recovery. But --
Fox: 'It's not too late to get the stimulus spending right.'
There are hundreds of billions of dollars left to be spent.
Visit ProPublica for more on this story and more stimulus data. ProPublica's Jennifer LaFleur contributed to this story.