On The Media's Eulogy Project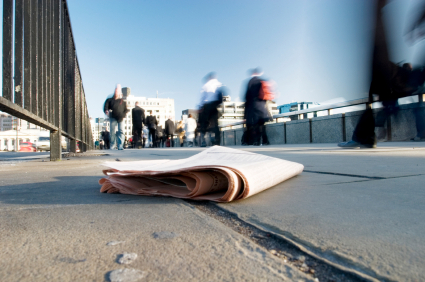 On The Media wants to hear your thoughts on the slow death of newspapers – are you sad to see them go or glad to see the back of them? Either way, send your emails to onthemedia@wnyc.org and write "eulogy project" in the subject line.
Here are a few of the responses we've received so far:
Michael Sidoric on newspaper delivery
Some twenty years ago I lived down the street from Jim Fain, then the publisher of the Austin American-Statesman. I had a daily love-hate relationship with the AAS Circulation Dept -- my paper was rarely delivered. Finally in disgust, I started an early morning stroll by Mr. Fain's condo where I filched his copy. I might add his paper was ALWAYS delivered. After a few weeks I started leaving messages with Circulation that angry subscribers on Fain's delivery route were going to 'liberate' his copies until service improved. It never did. And Fain eventually moved. The moral of the story? It's only news when it gets delivered.
Susie Hirsch Haubenstock on being from a newspaper family
My grandfather worked for the Chicago Tribune, my dad was a local newspaper publisher, editor, reporter; his cousin worked for the Washington Post; my mom's cousin married a New York Post reporter. I get that this is the buggy whip industry, but that doesn't make it any less painful. Last summer my husband and I went up to Washington to see the Newseum, and I cried much of the way through, thinking what it would have meant to my dad to see the place. He was a bright, forward-thinking guy, but I don't think he ever imagined that what's happening would happen.
Linda Oakleaf on Lesbian, Gay, Bisexual, Transgender papers
I came out in Chicago in 1988, and by 1989 we had two competing LGBT newspapers - Outlines and Windy City. I learned how to be gay from those newspapers. I came out when I was sixteen so I was too young to go to the bars, and too young to join any LGBT organizations, which at the time often had rules about not allowing members that were under 18. Through the two Chicago weekly papers, I learned about local, state and national politics as it touched on LGBT issues and gay newspapers covered the AIDS crisis in ways that I certainly wasn't reading anywhere else. I wonder how LGBT papers are faring in these economic times? After hearing your recent piece on papers, and how some folks don't seem to miss them, I thought I'd send my thoughts.