Manhattan D.A.'s Race Heats Up
With this year's retirement of 90-year-old Robert Morgenthau, Manhattan voters will have to pick a new district attorney for the first time in 34 years.
The last time Manhattan voters had to pick a new district attorney was in the mid 1970's. The top song was Barbara Streisand's 'The Way We Were'. New York, teetering on bankruptcy, appealed to President Gerald Ford for a lifeline.
President Ford: 'I can assure you this president will never allow the doors of the United States Treasury to be flung open to every city with a fiscal hole in its pocket.'
In 1975, Morgenthau's first year on the job, there were 648 murders in Manhattan alone. Last year, the borough had only 62. There were 4400 robberies last year, 30,000 in 1975. Morgenthau became a kind of institution, a D.A.'s D.A. The TV show 'Law and Order' is modeled on his office. Morganthau was more than a politician -- he became a brand.
No wonder then, all three of the Democrats who want to succeed him make sure voters know they worked for him.
There are few empty seats at the DA debate at the CUNY Graduate School. On stage, the three candidates exchange pleasantries. The field consists of former judge Leslie Crocker Snyder, former prosecutor Cyrus Vance Jr, and former Handgun Control President Richard Aborn.
Vance, son of the late secretary of state won the endorsement of Morgenthau early on. But at the debate, a New York 1 reporter was quick to ask him about his experience in private practice -- 3000 miles away.
Grace Rauh: 'You have spent much of your career, 16 years in Seattle, a city that one local columnist once described as where a weak latte constitutes a major crime.'
Vance quickly pointed out that he has the endorsement not only of Morgenthau, but of three former U.S. attorneys.
Vance: 'They know me and believe I have the best combination of qualities.'
But Vance also has to pivot away from Morgenthau so as to appear to be his own man.
Vance: 'Looking back at Bob's career I think he could have come earlier to his decisions on cases that ultimately were dismissed had he had a convictions integrity unit to evaluate cases like the Central Park jogger case.'
In 2005, Judge Snyder -- who served both Morgenthau and his predecessor Frank Hogan -- made the bold move of running against him. Backed by law enforcement unions and The New York times, she won 42 percent of the vote. She distinguished herself from Morgenthau. She came across as a tough on crime judge who, unlike Morgenthau, supported the death penalty.
Snyder: 'Now I am concerned about protecting the residents of Manhattan. I am concerned about the little guy, the seniors, the most vulnerable. I want to make sure our white collar plan first and foremost protects those people which means the smaller frauds, the internet scams, the credit card scams, the immigration scams, the identity theft.'
She is also now opposing the death penalty. In the forum, opponent Richard Aborn pushed her to explain.
Snyder: 'I join Justice Blackmun and Justice Stevens in being able to change a position when it is appropriate. One of the most important qualities of a district attorney is to be able to keep evolving and listen to folks that you don't necessarily start agreeing with but to be able to modify your position, if it is appropriate. You may recall that after 20 some odd years of being a strong death penalty proponent, Justice Stevens actually said that he was then against it.'
Aborn: Was that in the middle of a political campaign?
Snyder: Excuse me?
Aborn: Was that in the middle of a political campaign?
Moderator: Mr. Aborn just let her answer the question.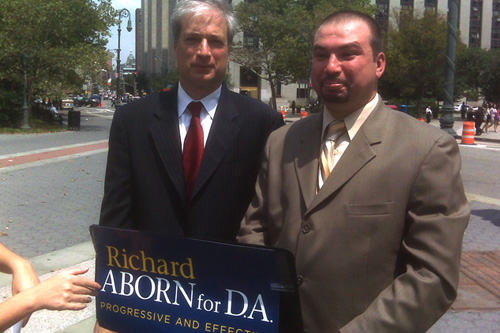 But Richard Aborn isn't accustomed to stepping aside. As the president of a national gun control group, he helped pass the Brady bill. Working for Public Advocate Mark Green, he investigated how the NYPD handled the aftermath of the police shooting of Amadou Diallo.
Aborn: 'We have to address the fact that our juvenile justice system is failing, that four our of five kids that get arrested will cycle through, and cycle through, and cycle through. We have to address the fact that 95 percent of the kids that get arrested in this town are African American or Hispanic, while they comprise less that two thirds of the population. We have to honestly confront the fact that there are tensions now between the police and the community and communities of color. That's being progressive, getting out there in an honest open proactive way and conducting these discussions.'
Progressive. That word comes a lot in this race, where Democrat primary voters are some of the most liberal in the nation. Aborn touts the support of Congressman Jerrold Nadler and the Working Families Party. Vance has the backing of former Mayor David Dinkins and Gloria Steinem. For Judge Snyder, there was no better endorsement than the one she got from former Manhattan Borough President Ruth Messenger.
Messenger: 'She will make a spectacular district attorney. There is no one in this race that has the combination of her years of experience, her really thoughtful perspectives and her extraordinary core values.'
With crime at historic lows, this prosecutors' race is turning on issues like increased police accountability, alternatives to jail and reforming how the law handles juvenile offenders. And all the candidates are putting forward competing plans aimed at crime prevention. Candidate Vance says he wants cut recidivism.
Vance: 'So we are here today to talk about a re-entry program that I would like to bring into the Manhattan's DA's Office.'
On this day Vance welcomed the endorsement from Pam Bowens, a woman he had met when he was working for Morgenthau as an assistant district attorney.
Bowens: 'Another prosecutor might have been determined to send a young woman with a cocaine addiction to jail. Instead, Cy Vance helped give me my life back. Cy Vance started as my prosecutor, but he ended up assisting me putting back the pieces of my life together.'
In the 2009 race for Manhattan district attorney, reforming the system as it is is a constant theme. DA hopeful Aborn built an entire event around the endorsement from Jeffrey Deskovic, a former criminal suspect whose life was ruined by the 'system.'
Deskovic: 'Yes at 17 years old, I was wrongfully convicted of murder and rape. That wrongful conviction was based on a coerced confession, the fabrication of other evidence, prosecutorial misconduct, fraud by the medical examiner. Ultimately I was cleared 16 years later because further DNA testing, which I has been fighting for previously to get, not only reaffirmed my innocence but it also identified the real perpetrator who subsequently confessed.'
Aborn's solution: creating a kind of internal affairs to police prosecutors and help them learn from their mistakes.
Aborn: 'So we need to focus on that and we also found that many cases have false confessions. Yes, people do falsely confess.'
This year, there is no Republican candidate and so the winner of the September 15th DA primary will be the winner. And, unlike in the mayor's race, there is no run-off. In this race, the candidate with the most votes wins. If past is prologue, this D.A. will be around for the presidential election -- of 2044.