Christine Quinn on Affordable Housing in NYC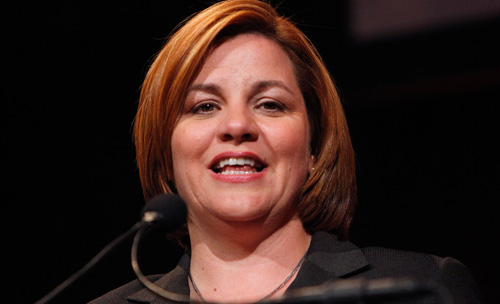 Christine Quinn, New York City Council speaker, discusses her proposal to transfer market rate housing to affordable housing throughout the city with WNYC's Brian Lehrer.
Brian Lehrer: Tell us about this program known as H.A.R.P. What does it stand for? How will it work? Will the government be buying up luxury condos and downgrading them?
Christine Quinn: Well you know everything needs an acronym in government right? So H.A.R.P. stands for Housing Affordability Recovery Program. The idea is as we look around the city and the recession we're in, we want to try to find ways to stabilize neighborhoods, to help stop decline and also to see things that potentially are negative, like unfinished buildings or untenanted buildings, and try to find ways to convert them into solutions to problems.
As we look around the city, we see lots of buildings that are half done or half empty because they aren't affordable now to the people who live in those neighborhoods or aren't affordable to other New Yorkers. The plan here is we've put out a notice of funding availability from our Department of Housing and we're asking the banks if they are in foreclosure or the developers who own these properties to submit plans to us.
They will have to make a case to us that they are going take a loss, a fair cut on how much they had wanted to make on these apartments, so they'll take the price down. We will then take the price down further, on average about $50,000. By doing this, the developer is taking a loss, adding a city subsidy will take the prices lower and make them affordable for purchase by moderate and middle income people with a priority towards the people who live in the area surrounding the buildings. One of the things that is important to note, on average when the city builds new affordable housing it costs $70,000 per unit. So this is less per unit then what we typically spend.
Listen to the entire interview:
>>> Help the Brian Lehrer Show track halted development in the city. Add your neighborhood projects on the map and photograph the empty condos, half-baked luxury high rises and stalled construction projects.