As July slips into August and summer travel season kicks into high gear, more and more passengers are taking the AirTrain. It connects JFK airport to the New York City subway system and the Long Island railroad. Five years after its inception, the AirTrain has drawn five million passengers a year, despite confusing signage, insufficient information, and a bumpy transfer into New York's transit system.



It starts, or maybe doesn't, when you get off the plane.
Bernstein: "The AirTrain."
Passenger: "I don't know what it is."
At the Delta airlines terminal at JFK, information is hard to come by.
Woman: "I'd take the AirTrain but I don't know anything about it. I don't think they do a good job of getting out the information. Where is the information about the AirTrain?"
That the AirTrain exists at all is a bit of a political miracle. About 15 years ago, Mayor Rudy Giuliani tried to kill it because it didn't meet his vision – a non-stop train from the airport to Manhattan. But Governor George Pataki pushed it through. The result is essentially a shuttle from JFK that links passengers to the New York City subway system and the Long Island railroad.
The trains are clean, the seats are wide, the views are cool. This speechwriter from Los Angeles, was pleasantly surprised.
Man: "It was very easy. Not a problem. And I'm very bad at public transportation."
It's also WAY cheaper than the other options.
Man: "I think it's great. It's either this or pay $45 for a cab to Manhattan and back."
But to get on it – you have to study up, like this PhD from Estonia, traveling with five friends.
Estonians: "To Manhattan? Brooklyn, Queens no."
The problem? There are two possibilities: They can connect to the A train at Howard Beach, or the E, J, or Long Island Railroad at Jamaica.
Bernstein: "Did you figure it out?"
Estonians: "No, we didn't figure it out…but we will."
And after a few more minutes, they do.
Estonians: "Jamaica train! Ja, Jamaica!"
Signage is both art and science. Ask Sue Labouvie is the head of the design firm Studio L'Image. She's working on a project in San Francisco to use signs to help people transfer from one transit system to another. So I asked her to evaluate the signage at the JFK AirTrain. She has a mantra.
Labouvie: "Integrated. I can't help but stress the word integrated, so people feel even though they have to go on different modes, they feel they can find their way and its going to be a smooth transparent thing."
As we take the escalator up to the AirTrain platform, we're disgorged into minimalist space with the feeling of an empty art gallery.
Labouvie: "This is an area, that I even being in signage, I am always confused."
Bernstein: "That feeling of insecurity, that's bad?"
Labouvie: "For a traveler, that's bad, yes."
What's even worse – the map is hard to find. Worse still, when Labouvie does read it, she misinterprets it.
Labouvie: "I think one train goes both places it's just the matter of getting to the right exit."
Bernstein: "That is not correct."
Labouvie: "Okay! I've always know there is some critical piece of information, very critical piece of information that has been left out here and I get nervous and I'm never ever comfortable that I've made the right decision."
More surprises: Inside the airport loop, the AirTrain is free. But when you shuttle the two miles to Howard Beach or Jamaica you pay.
"I didn't know it was $5, it's ridiculous, it's robbery, we just came back from Barcelona."
Once you leave the mod AirTrain station at Jamaica, you're back in New York, at a regular-old MTA station. There you are with your luggage, a little jet-lagged. If you choose the subway, you keep walking. If you choose the LIRR, your eye is actually drawn away from the elevator that will get you to the platform.
Bernstein: "Did you see there was an elevator?"
Woman: "No I didn't. Thank you so much."
For New Yorkers, that's the kind of inconvenience that comes with the territory. But for an international traveler, it may be the difference between riding the air train once – and being a repeat customer that recommends the AirTrain to friends. All of this does concern the Port Authority. In their offices near Union Square, Aviation Marketing Director John Olberding says he's been hearing the same complaints I heard.
Bernstein: "I found passengers could not figure out what train to take."
Olberding: "Absolutely right, and that's why we decided to go with the plasma screens."
The Port Authority has hired its own designer, Ileana Truneanu. Looking at a map of the airport, she points to the AirTrain platform. She says the current plan favored architects, not customers.
Truneanu: "It's very beautiful. It's very stark. You don't see anything. There is a kiosk there, but 90 percent of the people never even knew there was a kiosk there. So you arrive, there's no signage, you jump in."
Reporter: Truneanu says plasma screens on the platform clear information. She says she recognizes the need to create a seamless, well-signed set of transfers.
So she's created two color codes, blue and green. Blue is for cheapest way to get to Manhattan, by AirTrain and subway. Green, for the fastest way, by AirTrain and LIRR
The designers promise by the holiday travel season, there will be consistent signage from the terminal to the subway platform. Six years after its inception, the AirTrain may offer, if not a one-seat ride, something approximating a seamless one.
Announcer: "Next stop is Jamaica Station."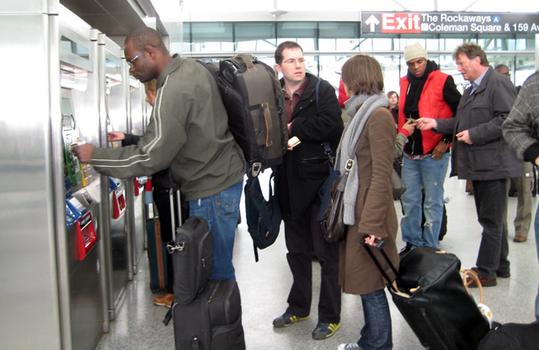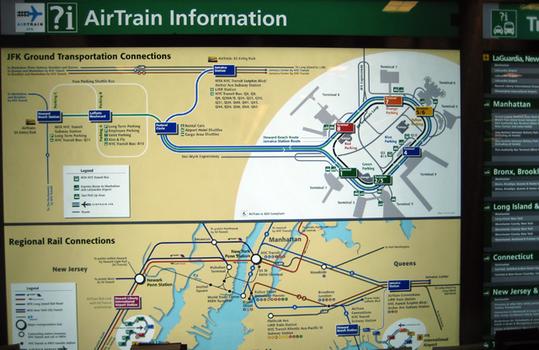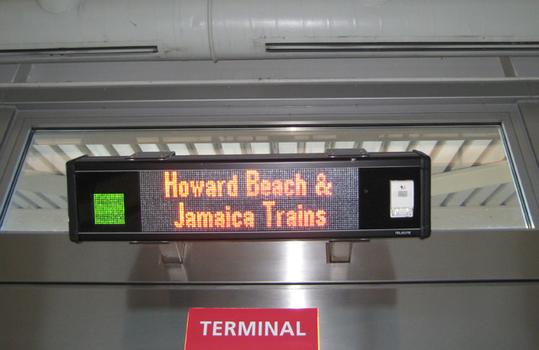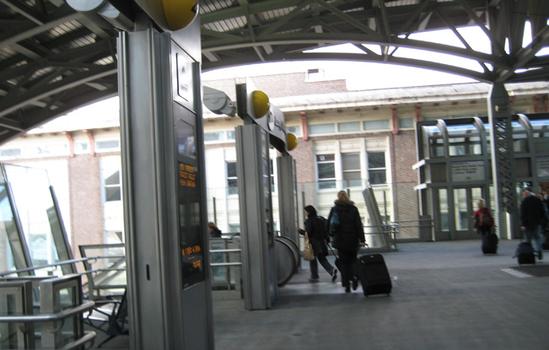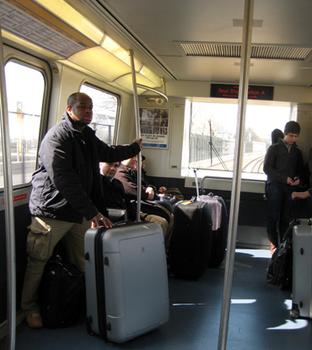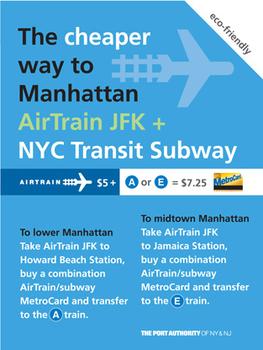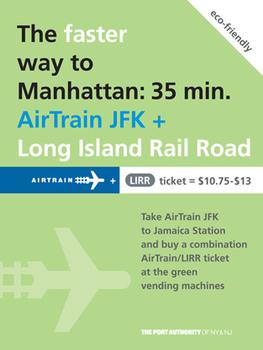 of