Eye on the Comptroller Race: David Yassky
This week marked the deadline for municipal candidates to get their petitions in so their names will appear on the September primary ballot. Citywide office hopefuls need 7,500 valid voter signatures to qualify. The experienced candidates will file many more than that just to be on the safe side. In the fourth of a series of candidate snapshots, WNYC's Bob Hennelly hung out with Comptroller hopeful Councilman David Yassky.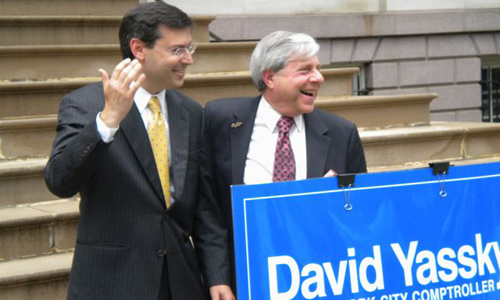 Brooklyn Councilman David Yassky embraces supporter Brooklyn Borough President Marty Markowitz on the steps of City Hall. Yassky is the only one of the four leading Democratic Party contenders for Comptroller whose not from Queens. For Yassky Brooklyn appears 'to be in the house.' The 45 year-old has done an impressive job rounding up the backing of the borough's elected officials and party regulars from his home county, which also happens to be the most vote rich of all five boroughs.