Brooklyn's Fishing Contest Underway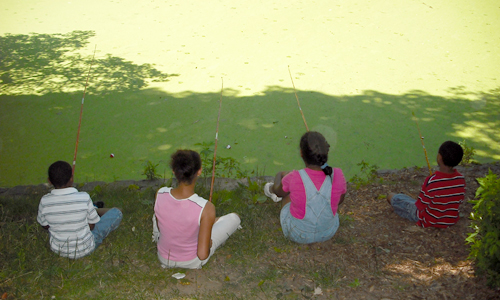 The sun is out, the sky is clear, the wind is blowing a light breeze...and it's a great day to go fishing.
Prospect Park has launched its 62nd annual kids fishing contest. From Wednesday through Sunday children will get to compete for prizes by showing off their fishing skills.
City Parks Commissioner Adrian Benepe was at the park's Audubon Center to kick off the contest. He says events like these help city kids get in touch with nature.
Prizes will be awarded daily for categories such as Biggest Catch and Most Fish. The first prize went to 13-year-old Simon Yevdayev for catching the biggest fish of the day: a 10-inch bass. He won a new fishing pole and a tackle box. Yevdayev is a fishing contest veteran--last year he won the contest in the Most Fish category. Others like 12-year-old Alexy Starks have been trying to beat him out but haven't had any luck.
 Sign-up is free and includes fishing equipment and a fishing instruction workshop. The only rule is that contestants must be 15 years-old or younger to enter.