More People But Not Many More Parks
Mayor Bloomberg has rezoned large parts of the city to make room for population growth, but he's had a hard time creating the open space where these new residents will be able to exercise. WNYC calculated how much more open space the rezonings will provide compared to how many more residents are expected to make those places their homes. It turns out that back in the 1990s, the city developed guidelines for this ratio: all large new developments, they say, should ideally provide 2.5 acres of open space for every 1,000 residents once they are fully built out. (See page 5 of this PDF.) Taken as a whole, the rezonings fail to meet that goal. (Go here for the story we aired this morning on this topic.)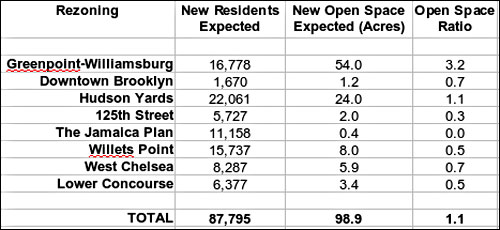 It's easy, after all, to allow developers to build residential buildings in formerly industrial spaces, or build taller buildings in places where low-rises prevailed. It's harder to actually buy up private propety and convert it to open space. That's been the rub in Greenpoint and Williamsburg, where City Hall has been unable to acquire property it promised to turn into parks.
But looking at the chart above, it seems that residents there will be comparatively lucky, as long as everything comes out as promised. The rezonings in Harlem and Jamaica, Queens, by contrast, offer much lower ratios of open space per capita.
Bloomberg administration officials say the areas close to mass transit where they want to concentrate the city's growth are exactly the areas where it's hard to find more space for parks. But they say they've tried to make up for these deficiencies in other ways, such as by painting bike lanes, opening up school playgrounds after normal hours, and improving access to the waterfront.
The numbers above are taken from the final environmental impact statements for each rezoning. We include the extra open space that was added to the Greenpoint-Williamsburg rezoning after that analysis was complete. And we also consider the 2-acre West Harlem Piers Park as part of the 125th Street rezoning, though the two projects are technically separate. (The 125th Street rezoning doesn't include any park space in and of itself.) Also, the figures for Hudson Yards include 5.0 acres of a green roof that was planned for the Javits Convention Center, but which has been dropped from the center's expansion plans. Without these parks, the rezonings provide for just about 90 acres of open spaces.