Working Families Party Endorses Bill Thompson for Mayor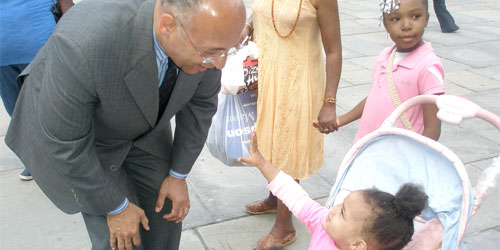 For weeks now Mayor Bloomberg's early multi-million dollar ad campaign had created an air of inevitability. But with this week's endorsement of Comptroller Bill Thompson by the Working Families Party, the mayor had his first political setback in his bid for a third term.
The WFP executive panel, which includes some of the city's most powerful unions, backed Thompson by a vote of 75 out of 109. Thompson is also competing for the Democratic nomination against City Councilman Tony Avella. Thompson's name will appear on the WFP ballot line in November.
The vote by Working Families is interesting for another reason. It can be difficult for unions representing municipal workers to oppose an incumbent mayor. In the WFP vote, the powerful teachers union chose to abstain. The communications workers and healthcare workers union 1199 voted for Thompson. Some unions that are under the WFP umbrella, like the plumbers and United Food Commercial Workers have already endorsed Bloomberg.
The upcoming mayoral election is expected to be a low-turnout affair with estimates that just one in four voters may cast ballots. That makes labor unions more important in getting out the vote. In addition to Thompson, WFP has endorsed Councilman Bill DeBlasio for Public Advocate and Councilman John Liu for City Comptroller.
In the 2005 mayoral race, Bloomberg won enough union support to deny the WFP ballot line to his Democratic rival Fernando Ferrer.