NYC Museum Saves (DNA of) Endangered Species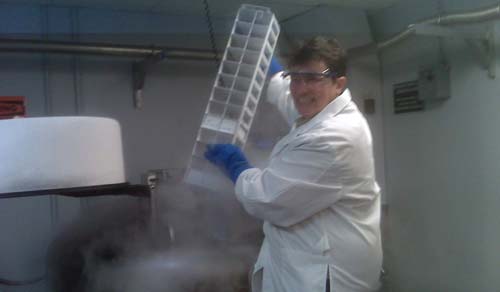 Tissue samples from endangered species will now be stored at the Museum of Natural History, under a new agreement with the U.S. Parks Service. The museum already freezes its own samples taken from whales, butterflies, and other creatures in seven cryo-vats that look like giant, stainless steel thermoses filled with liquid nitrogen.
George Amato, director of the museum's Sackler Institute for Comparative Genomics, says the lab can store a million tiny specimens.
Which is why the museum has plenty of space for samples from the nation's parks. Bert Frost, the park system's Associate Director for Natural Resource Stewardship and Science, says DNA from the Channel Islands Fox and the Hawaiin goose will eventually find a home here.
By storing the DNA, he says scientists could learn how to help these endangered species from becoming extinct. But he warns there's still no technology for bringing them back to life.