Eye on the Comptroller Race: Melinda Katz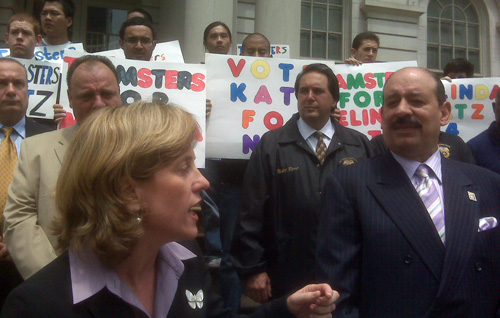 Queens City Council Member Melinda Katz was on the steps of City Hall recently winning the endorsement of the Teamsters local union in her campaign for comptroller. The union represents 120,000 workers throughout the city, ranging from employees of the Department of Sanitation to operators of the Central Park horse drawn carriages.



The job of city comptroller, one of just three citywide-elected posts, pays a $185,000 salary. The comptroller is the city's chief financial officer who advises the mayor and the City Council on financial matters. The comptroller is responsible for auditing municipal contracts and settlements made by the City and plays a central role in overseeing the city's five municipal pension funds. Katz's boosters think that they fact that she is the only woman for citywide office could give her a boost come election day when they say 60 percent of primary voters will also be female.